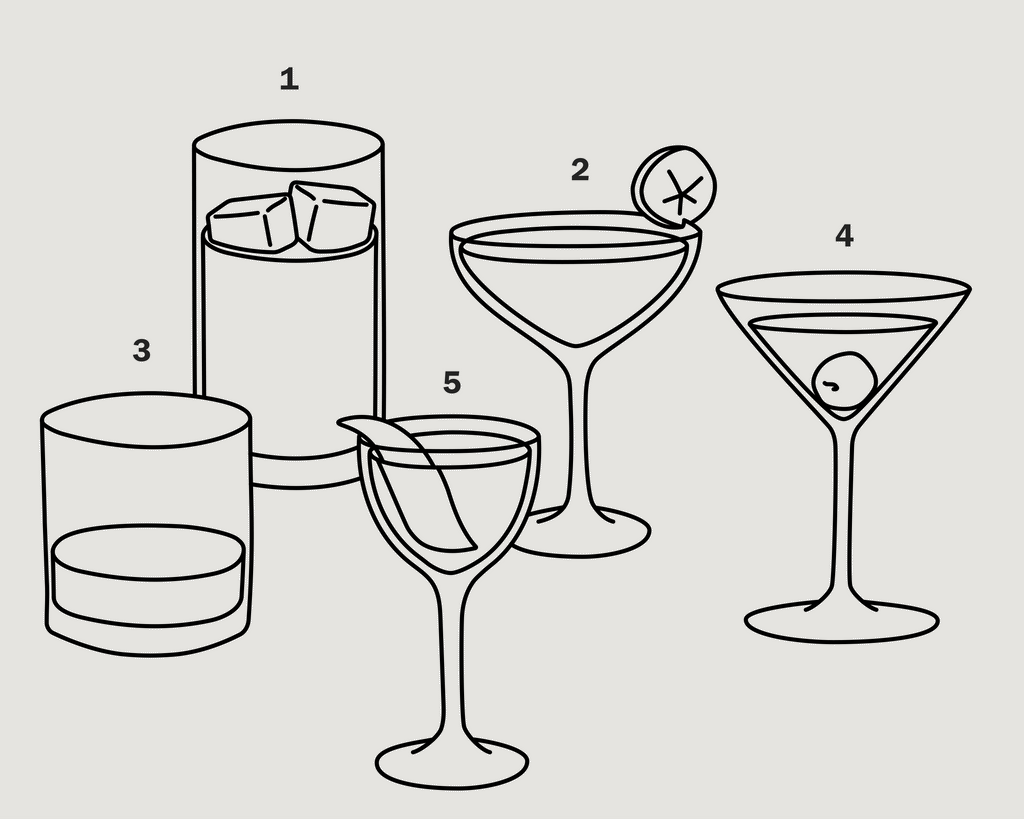 You've got good spirits, so now it's time to raise your glassware game to the same level. From Collins to Coupes, here's all the glimmering glassware you need to stock in your liquor cabinet:
1. Collins.
A Collins glass is a skinnier, taller version of the classic Highball, used to serve mixed drinks over ice like Gin & Tonics and, of course, Tom Collins. They're sleek in style and endlessly versatile, so you can use them for your morning OJ just as you would your evening nightcap.
2. Coupe.
Essentially a curved martini glass, the coupe is a stemmed glass with a wide, shallow bowl that's used to house everything from a Gimlet to a Martinez to a Bee's Knees. Because of their shallow bowl and delicate touch, coupe glasses are best reserved for drinks served "up" – in layman terms, that means cocktails that are shaken with ice and strained, as opposed to Collins and Rocks glasses that are designed to bear the brunt of heavy cubes.
3. Rocks.
A rocks glass is as classic as it comes, and for good reason – these short and stout glasses are used for just about any cocktail served on ice. They're a standby for gin drinks like the Negroni, and are often used to house brown spirit cocktails like Manhattans and Old Fashioneds, diluting the potent libations with a large rock.
4. Martini.
The '90s are back, and with them comes the resurgence of the Martini glass, the conical shaped cocktail glass used to house Martinis, sure, but also drinks like the Cosmopolitan and the Appletini. While you could just as easily use a Coupe for these cocktails, there's something nostalgic about an old-school Martini glass that earns it a place in our kitchen cabinets.
5. Nick and Nora
If a Martini glass and a Coupe glass had a baby, it'd be called Nick and Nora. And what a cute baby it is, with its delicate stem and small, curved bowl. Named after the main characters from the 1934 film The Thin Man, who were shown throughout the film sipping spirits from the iconic glasses, the Nick and Nora glass harkens back to retro cocktail culture, and can be used anytime you want to add a fun twist to any drink traditionally served in a Martini or Coupe glass.