FAQ
You can subscribe and save to our products with or without an account!
With any subscription you can change products, scents, quantity or delivery frequency, at any time!
To access your subscriptions, click Sign In on the top left of the navigation bar and avigate to "Need Help Managing your Subscriptions," just below the login.
You will be prompted to enter your email to setup an account if you don't already have one.
We do! We offer wholesale pricing on bulk orders on all our products. Please fill out the respective forms for corporate gifting or weddings and our team will get back to you!

If you are a bar/restaurant/retailer interested in carrying our products - send us a message directly and our sales team will be in touch.
If you're looking to enjoy AMASS products at a restaurant/bar or purchase in-store, we may have options near you. To check, head to our Find Us page and enter your address to see a map of nearby bars, restaurants, and retailers.

If you have any questions, send us a message and we can help you find what you're looking for!

*Note: our personal care line is currently for purchase online only.
AMASS & OUR PRODUCTS
AMASS is a modern botanics lifestyle brand. We make clean botanics for your social and self-care rituals.
GIN - Our Dry Gin is gluten-free and made with a corn base spirit.

VODKA - Our Botanic Vodka is made with a 100% organic wheat base spirit. However, through the distillation process, any proteins are separated from the ethanol so there should be zero gluten, though we recommend consulting your doctor if you have any questions or concerns.

HARD SELTZER - Our Botanic Hard Seltzers are gluten-free and made with fermented organic cane sugar.

NON-ALCOHOLIC SPIRIT - Riverine is gluten-free and made with water and natural botanicals.

HAND SANITIZER - Both our travel-sized spray sanitizers and 16oz sanitizing serums are gluten-free.

HAND SOAP - Our Botanic Soap is gluten-free.
NON-ALCOHOLIC SPIRIT - Riverine is shelf-stable and best enjoyed within three months of opening. Refrigeration is not necessary.

HAND SANITIZER - Overtime, hand sanitizer will become less effective but typically, the industry standard for when hand sanitizer expires is 2 to 3 years. This is when the percentage of active ingredients drops below 90 percent of the percentage stated on the label. 

Riverine is a 0% ABV, 0 Calorie beverage. While Riverine contains traditional gin botanicals like juniper, coriander, and orris root, it is not a gin proxy. Rather, it is a nuanced, sophisticated spirit in it's own right, meant to be enjoyed on the rocks with a splash of tonic or in a variety of cocktails.
From our glass spirits bottles coated with organic inks to our hand sanitizer bottles made from recycled PET plastic, all of our packaging was designed to be 100% recyclable. Consult our guide here for tips on how to responsibly dispose of each of our products after use.
SHIPPING & RETURNS
PERSONAL CARE:
Our personal care items can be shipped anywhere in the US

ALCOHOL:
Due to state regulations, orders containing alcoholic beverages can currently ship to the following 30 US states indicated on our shipping map with select zipcodes.

We are actively working to expand our shipping availability - If we currently don't ship to you, please send us a message so we can work to prioritize your state.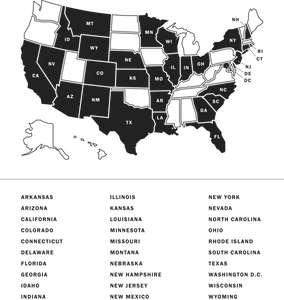 We currently ship internationally throughout the UK and Europe. We are actively working to expand our international shipping offering, so If we currently don't ship to you, please send us a message to submit your shipping request and we'll work to prioritize it.
Orders over $50 USD are automatically eligible for FREE SHIPPING in the contiguous United States. Offer not valid for shipping to Hawaii or Alaska.
Note: our shipping times have updated for the holiday season as shipping carriers prepare for the busiest time of year! See our updated holiday shipping times
Our typical shipping times are as follows:
PERSONAL CARE ORDERS:
We package and ship out orders within 1-2 business days of your order being placed. All orders are shipped via USPS.
Any orders placed Sunday - Thursday will ship out the next day and will likely arrive 1-2 days later. Any orders placed Friday and Saturday will ship Monday morning.
ALCOHOL ORDERS:
Due to federal regulations, all alcohol orders are fulfilled by our shipping partners. We typically estimate 1-3 business days for fulfillment and 3-12 business days for shipping.
All orders are shipped via FedEx. All alcohol orders require an adult signature upon delivery. If you miss your package, a redelivery will be rescheduled for the next business day up to 2-3 attempts.

*Note: shipping carriers nation-wide are continuing to experience delays due to the ongoing pandemic which has been affecting delivery times on some packages.
For any changes to your order, please contact us ASAP so we can update your order before it's shipped out. If the order has already been fulfilled, there is very little we can do, but reach out and we'll try our best!
Updates on your order and tracking information will be provided via email. You can also opt into SMS notifications.
You can also visit our Tracking Portal, to track your order at anytime (or in case you don't want to search your email inbox).
Due to federal regulations, all alcohol orders are fulfilled by our shipping partners, so If you purchase personal care items and alcohol together, your order will come in two separate shipments. You will receive email updates and tracking information for both parts of your order as they are shipped.
All alcohol orders must be accepted by an adult 21+ and require an adult signature upon delivery. If for any reason you miss your package, a redelivery will be rescheduled for the next business day.
You can also arrange a pickup at a FedEx Office location for free. Simply follow these steps:
1. Enter your tracking link on FedEx.com (you can find your tracking number on your confirmation email).
2. Click the purple "Customize Delivery" button to select the "Hold at Location" option.
3. Enter your order's original shipping address to select the location of your choice.
4. As soon as it's delivered, your tracking link will indicate it's available for pick up. Visit the location within 5 business days with your I.D. and tracking number.
5. Enjoy!
Due to health & safety reasons, we do not accept returns. If for any reason your item arrived damaged or you are unhappy with your online purchase, please contact us and we will make things right for you!
Route+ is a premium package protection and tracking solution to give you a seamless delivery experience.
In order to best protect your package, Route+ is automatically added upon checkout for $1 per item. This allows you to file a claim in case anything happens after the package leaves our warehouse (missing packages, damaged items, etc.) This is an optional feature and can be removed from checkout at any time.
If you already checked out and would like to remove Route, contact us and we'll update your order!
If you have purchased Route+ and need to file a claim, you can do so here.
HOLIDAY ORDERS
We would love to help you gift this holiday season. We offer discounts on orders placed in bulk.
To view our catalogue and place your order, login to our portal here
Whether you are sending to a single address or individual addresses, we can help you with this - reach out to us through the portal and we will assist you!
The earlier the better! Holiday items sell fast, and when they sell out. they're gone until the New Year.
We recommend the following order cutoff times for your order to arrive in time for holidays. Alcohol orders will ship separately from personal care orders.
Keep in mind, shipping carriers continue to experience delays due to the increased holiday demand and labor shortages caused by the pandemic.
Note: These are our recommendations to place your order, but we cannot guarantee delivery once your order is with the shipping carrier. Some shipments may be impacted.
| | Thanksgiving (11/25/21) | Christmas Eve (12/24/21) | New Years Eve (12/31/21) |
| --- | --- | --- | --- |
| Alcohol | 11/10/21 | 12/9/21 | 12/16/21 |
| Personal Care | 11/18/21 | 12/15/21 | 12/24/21 |
For the rest of the year, our standard shipping times are as follows:
Personal Care: 3-6 days
Alcohol: 9-14 days

For our personal care products, we offer expedited 1 day delivery for an additional fee ($20+ depending on weight).
We proudly provide handwritten gift notes to send your loved ones personal messages. When viewing your cart, you will be prompted to add a gift note (don't forget to sign your name in the note). You will receive a confirmation of your gift message on your order confirmation email.
In an effort to reduce excess packaging, we currently do not offer holiday gift wrapping. However, we do offer handwritten gift notes at no additional cost.