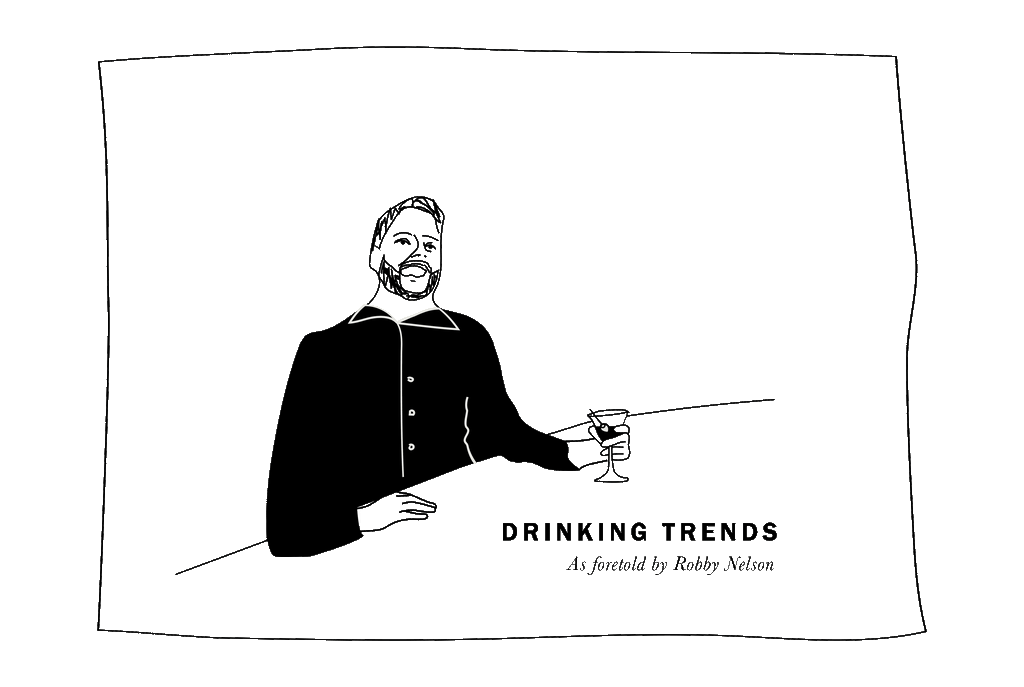 The 2010s were a decade of excess capped off with surprising thoughtfulness. They were a decade of canned concoctions and boozy brunches. They were, in a word, boundless. And as sad as we were to bid them farewell, we're also thrilled to see more mindful trends make their way into the spotlight. So I talked with Robby Nelson, AMASS' East Coast Sales Director and cocktail whiz whose personal resume reads like a who's who of the New York food and beverage scene. Before joining the AMASS team, Robby served as the General Manager at Momofuku's East Village bar, Booker and Dax, bartended at The Long Island Bar under Toby Cecchini, the much-lauded creator of the legendary Cosmopolitan, and worked at Pernod-Ricard first as the Brand Ambassador for Plymouth Gin and later as a Key Account Manager. Suffice it to say, Robby knows a thing or two about cocktails. So it should come as no surprise that when I asked him to share his bold predictions for the drink trends of 2020, he did not disappoint.
No Proof Cocktails
I have definitely noticed more and more bars/restaurants offering "No Proof" cocktails and devoting a section of their menu to them, not to mention taking the time during menu development to create some delicious drinks. Seedlip is, of course, a brand that I see more and more of, but bars have also been incredibly creative when developing non-alcoholic cocktails. For instance, Existing Conditions, which is over a year old now, launched with some truly incredible No Proof cocktails, employing all of their "scientific" and "molecular" techniques (I put those in quotes because they hate the term molecular, and probably wouldn't like scientific much either).
The Martini
I also think the martini is having a bit of a moment. A lot of cocktail bars have a house martini or a martini variation on the cocktail menu. My friends recently opened a restaurant called Anton's in the West Village, and they serve a pre-batched, pre-diluted, and chilled martini, as well as a Manhattan, which are both simple and delicious. That's another trend, too–prepared cocktails that are made better by being made ahead of time. Existing Conditions has an old school vending machine with three different bottled cocktails that you get by requesting a token from the bartender that you then use on the vending machine as if you're getting a Coke.
Classic Cocktails on Restaurant Menus
I have also been noticing that a lot of restaurants have decided they don't need to have a list of bespoke, house cocktails. They're happy to serve a short list of classic cocktails and do them well, which I am so happy about.
Glassware
Glassware—that's the new arms race. Gone are the days where everyone used the same Libbey 5.5 oz coupe glass. Now anyone with a serious cocktail program selects their own glassware because they want it to be beautiful and unique. Which I also love because I'm a sucker for glassware.
Mini Martinis & Vermouth Service
I was never a big fan of doing shots of Fernet, which used to be what every bartender would serve every industry person who walked through the door. Thankfully, this has largely disappeared.  Now, bars/restaurants have their own unique ways of saying hello/goodbye to a visiting industry person.  For instance, Dante usually pours tiny martinis (because they have them prepared) or they'll do a small version of their vermouth service, which is dry vermouth, a splash of bubbles, and a frozen grape. [The drinks are] delicious and low proof, so you're not staggering out of the bar after a full-blown shot of full proof spirit.
Thoughtful Consumption
Along the lines of what I said above about shots, I think consumers are also drinking with more care and intention. They want to understand and appreciate what they're drinking, not necessarily get wasted. Don't get me wrong, people also do that, and frequently. But it's like with food, people want to eat/drink something they enjoy, they can learn about, talk about, take a cute picture of, and engage with on a deeper level than just being full/drunk.
Written by Nicole Carullo & Robby Nelson