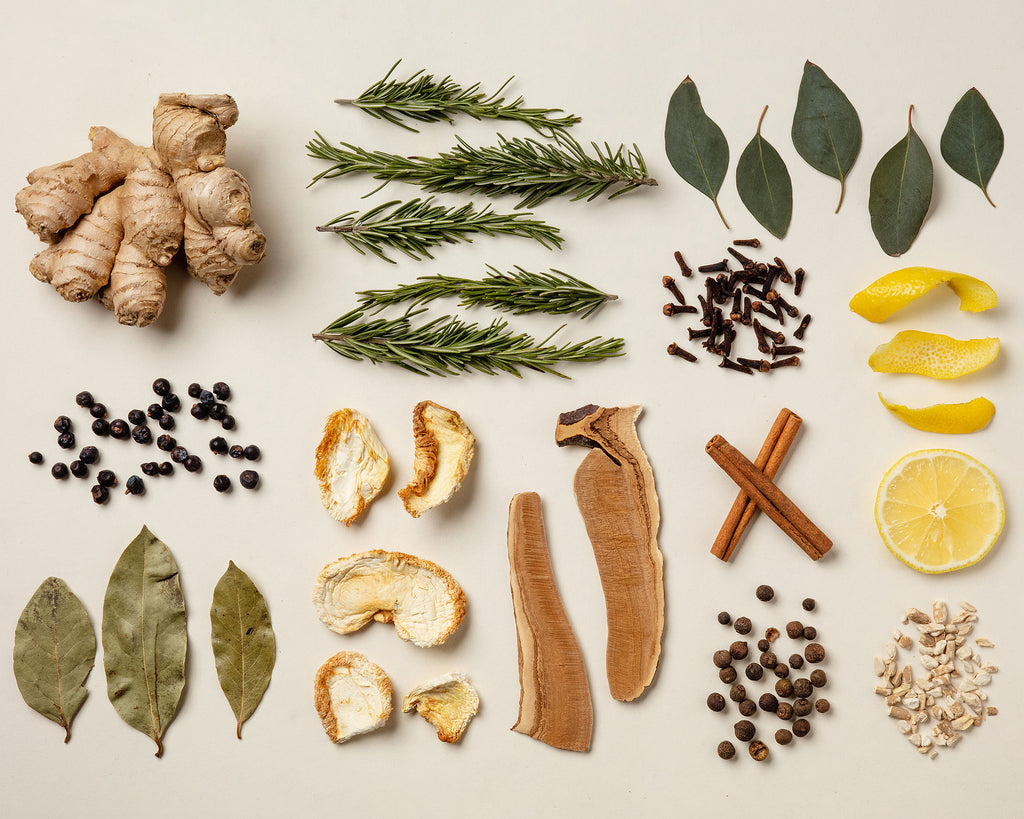 The words adaptogen and nootropic are thrown around quite a bit in the health and wellness space these days. But what are these superplants, exactly, and why do we use them in our spirits? Let's discuss.

To put it simply, an adaptogen is a plant that helps the body adapt to and cope with stress. Adaptogens work to regulate the body's cortisol levels, keeping not just stress but also fatigue and restlessness at bay.

Nootropics, meanwhile, are thought to enhance cognitive function. These mighty mushrooms and energizing roots improve memory, creativity, and concentration, keeping you feeling focused and motivated.

Harnessing the power of plants isn't anything new, though – adaptogenic and nootropic botanicals like holy basil and ginseng have been used for centuries in both Ayurvedic and Chinese healing traditions to boost immunity, reduce inflammation, and alleviate feelings of anxiety.

In AMASS Dry Gin, we use our own blend of adaptogenic and nootropic botanicals to lend a complex boreal flavor profile to the spirit. These ingredients also tell a larger story of contemporary Los Angeles, a multicultural city that regularly leads the conversation in all things wellness, with quintessential new-agey brands like Sun Potion and Moon Juice popularizing the use of adaptogenic and nootropic herbs. The therapeutic effects of these ingredients are diminished when distilled, so if you're looking for a strong mood-mellower, turn to your favorite tea or tincture.
Meet our Powerful Plants:
Ashwagandha (Withania somnifera) is a plant in the Solanaceae family native to the drier areas of India. The species name somnifera means sleep-inducing in Latin, referring to the calming properties of the plant. The bitter botanical can help the body cope with stress while improving memory, and is purported to possess aphrodisiac qualities. It has long been used in the Ayurvedic system of medicine as a Rasayana, an herbal remedy intended to promote longevity.

When distilled, the botanical offers a sharp herbal taste that acts as pleasant foil for brighter California citrus and earthy mushrooms.
Reishi Mushroom (Ganoderma lucidum) is a member of the Ganodermataceae family that grows in the tropical and temperate regions of Asia, as well as in the northern Eastern Hemlock forests of North America. Known as "lingzhi" in Chinese, the Reishi mushroom is also called the "mushroom of immortality," "divine mushroom," and "magic fungus" because of its therapeutic properties and distinct tonifying effects.

In AMASS Dry Gin, Reishi lends umami notes and earthy undertones to ground light and bright lemon, grapefruit, and lime leaf.
Lion's Mane Mushroom (Hericium erinaceus) is a type of fungus in the Hericaceae family native to North America, Europe, and Asia. Long lauded as a cure-all in Chinese medicine, the botanical possesses antioxidant and anti-inflammatory properties and is purported to stimulate and enhance nerve cells. Like ashwagandha and Reishi mushroom, lion's mane is classified as both a nootropic and adaptogen.

For us, flavor always comes first though, which is why we love lion's mane in our gin. While an uncommon feature in the spirit, lion's mane couples up with Reishi mushroom to give AMASS Dry Gin its distinctive kick of umami.