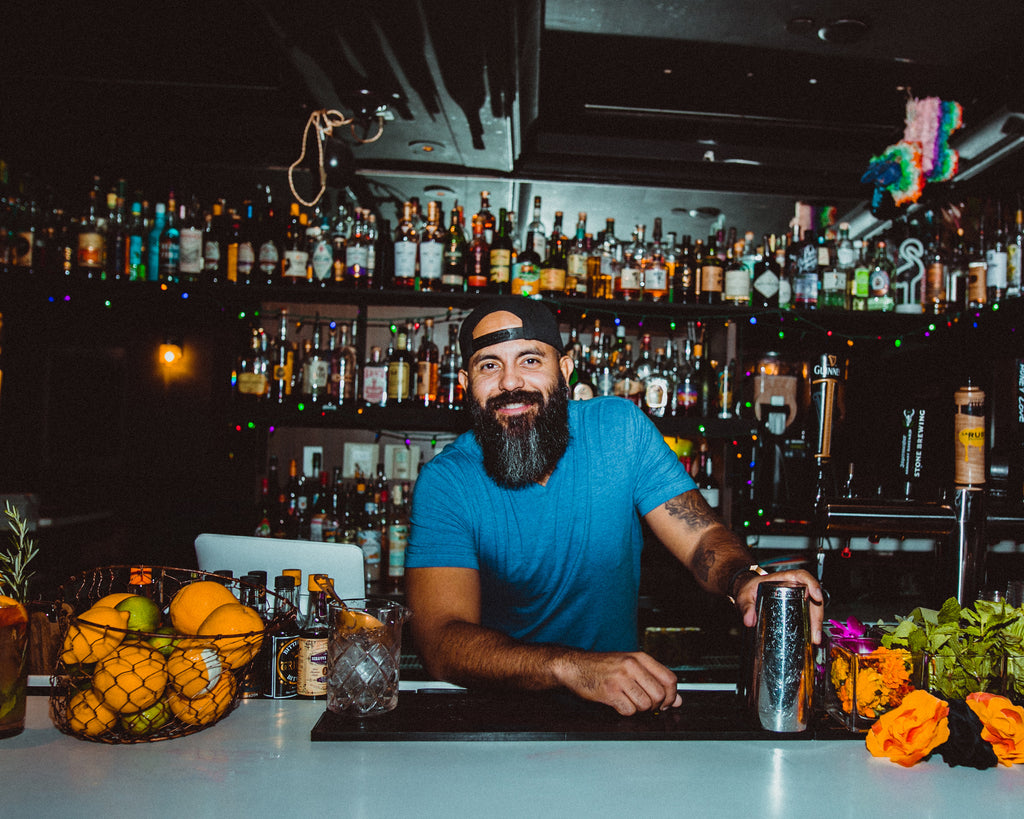 On nights when I go out, I like to eat and drink at mom-and-pop type places in the neighborhood. Small Cuban spots, Puerto Rican spots. I like going to Beaker and Grey a lot on my time off. I hang out the most at my bar, unfortunately, but I like going to places like Mama Tried, The Sylvester, and Blackbird. With most of the spots I go to, it's just about the vibe and the people. Not even necessarily the people running it, but just the people working there. A perfect spot like that is La Trova. Tons of hospitality, man. Those guys over there are amazing.
I don't drink cocktails that often when I go out, but I drink a lot of classics—so earlier, I had a 50/50 martini. I think anything made by Derek Stillman at The Sylvester is interesting. That guy goes hard. I can't put my finger on just one thing that's interesting that he's made because everything he makes for me is interesting.

I test out my cocktails on my staff—I make them suffer. They have to learn the hard way. Vanilla Sky says, "You can't enjoy the sweet if you've never had the sour." So they have all the sour ones first until they're finally like, "Okay shit, this one's good." Honestly, I go back and forth with the staff a lot. I want them to learn, I want them to be creative. And if there's anybody that I really want to taste my drinks so that I feel bad about how bad they are, it would be David Perez from Blackbird. He'll definitely tell me the truth about my drinks, so I never ask him. That guy doesn't give out compliments for anything. It's the best and the worst.
I like bars that make you feel scared when you go into them.
If a normal human being feels like, "Man, I don't think we should be here," that's where I feel most at home. I think, "This beer looks old... I want it." I don't know why. I just like places with character, so I get attracted to bars that seem like they have a story. They have a little soul to them.
When people say, "I'll have a Long Island Iced Tea, but make it strong," I tell them, "You know strong means expensive, means more money, means more booze? You get that, right?" and they say, "Come on man, hook it up." So the way around that is I grab some Wray and Nephew, some overproof rum, and I'll make their Long Island with that. I'm like, alright cool, you wanted it strong–be careful what you wish for. I'll give them that and say, "Hey look, it's tradition here to take a shot of this," so now on top of that they're going to get another shot of Wray and Nephew.

I look at chef books a lot for inspiration. I rely heavily on reading about the minds of chefs over the minds of bartenders–I like learning how and why it is that they pair food together and then I try to expand from there. Another thing that I look for when it comes to getting inspired to make something is whether it can be fun. I think for the most part people want something they can drink–they don't want an experiment, they don't want anything that's too sweet or over the top. They want a place to come to lay back and they don't want to have to overthink what they're drinking. They just want to talk to somebody and have a good time while being able to enjoy what they're sipping.
So if I can make something with a funny name that's going to get them to talk about something and get their mind off of whatever it is they're trying to get their mind off of, that works for me.
It's not that I'm kissing ass or anything, but at the moment I'm feeling inspired by gin, especially old Tiki-style stuff–that has a ton of gin in it. I like stuff that's bright and refreshing. Long drinks, ya know–Collins. I just want to try different things with simplicity. Lately, I've been wanting to use gin and rum because those two have a lot of oomph and flavor. You can find a lot of backbone in that stuff, and making something that's easy and simple, that'll go down 3-4 at a time, that's where I want to go.

One trend I've noticed lately is right now, people for some reason are wanting to put these big ass rocks inside of coupe glasses. I don't know why. It seems like a liability issue, like someone's going to chip a tooth. If you're going to make me anything on the rocks, put it in a rocks glass. And if you're going to put anything in a coupe glass, I'll enjoy my coupe with my pinky up. It's like, how do I drink it? With a straw? I paid a lot for these teeth, man.
I think people in Miami are starting to care about quality, though. They're starting to care about what is in their drink–they don't just want something that's sugary and is going to mask everything. And I think it's great being a part of this renaissance where you have stuff that started off in Miami Beach with the Shaker Boys and the Regent–those guys were killing it back in the day and it just fluttered over to this side of the water.  Downtown, Brickell... Hell, Better Days... There was nothing around here really during that time. We're lucky enough to be able to showcase that aspect of quality in an environment that's laid back.

And then you have other amazing places like Blackbird and Mama Tried that are trying to boom in this culture. Mama Tried is a newer spot, and you can see that they're making a difference and that people are going not just because it's a cool vibe, but because they're getting quality stuff. And it's exciting to see in Miami, because clubs are great and it's cool for everyone to go to them, but it's also cool to see these local watering holes and people caring about what's going on.
Photos by Celia Luna at Better Days in Brickell, Miami

Interview has been edited and condensed for clarity