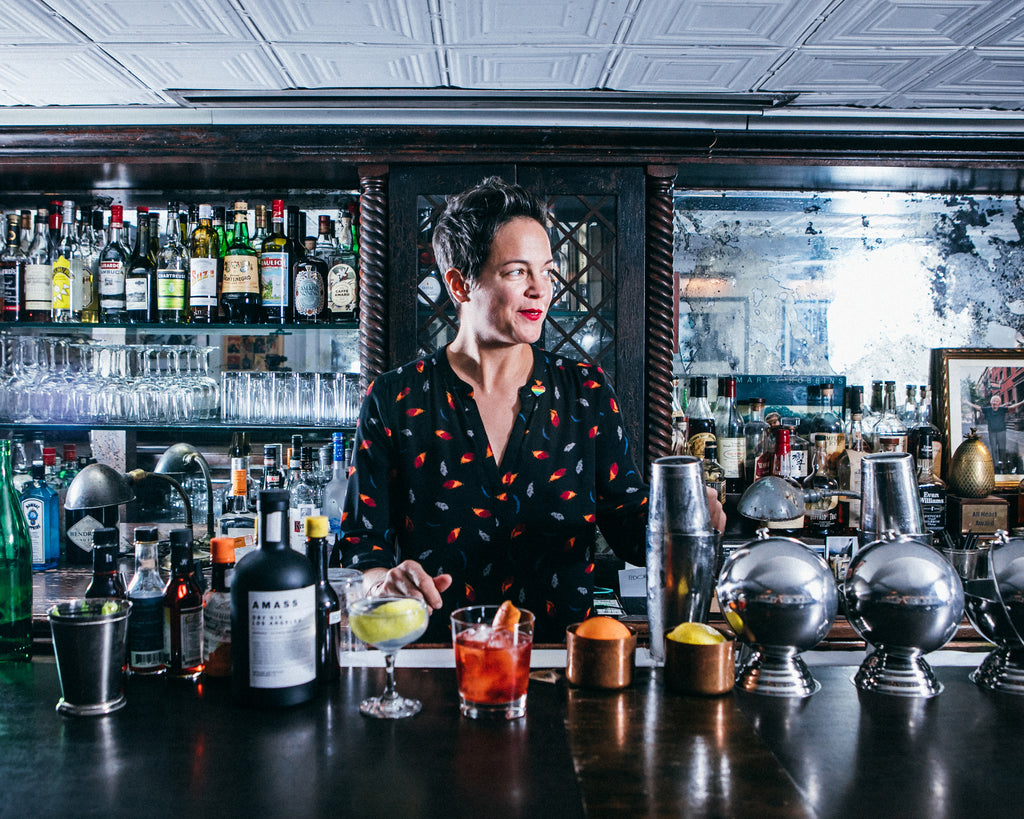 My girlfriend and I, as soon as we both tried AMASS–you know, of course I'm not going to fake it as something I like just because I'm friends with Robby [editor's note: Robby is AMASS's East Coast Sales Director]–but to be honest we really did enjoy it very much. We love the packaging, we love the taste, we love the story behind it... It's great. We tell all of our peeps that come into where I work the same thing [laughs].

My lovely lady Pam who lives with me–who knows Robby–we've been together now 7 years. She's also in the industry, but she does the finance side of things. So we're both in the industry but totally different realms of it. We're homebodies, for sure, because for being in this business, I mean I'm not going to lie, I'm a little bit older. I'm turning 45 this year and I'm proud of it. So being in this industry, and I've been in it now for 20+ years here in New York, back in the day I'd have to tell you that I love to go out to where all the cool kids go–you know, you want to go to the place to go. But now on days off, we always want to seek the new spots, the new restaurants, what's fun. But honestly my nights off are weekends, and I'm one of the very rare bartenders that has weekends off.
I feel like taking Saturday and Sunday off back-to-back in this industry is definitely harder to do and it takes some time to do that, but I do enjoy my weekends.  And [Pam and I] usually go to a local neighborhood spot. There's a place actually where we met Robby that used to be called Prime Meats. Now it's still owned by the same group but is called Frank. They serve good Italian food, have a natural wine list, a great bar program–they're just very neighborhoody. Honestly it's the kind of place I could just roll out of bed, be there in 5 minutes, and have a good meal. You know, it's usually knowing who's behind the bar.
That's what I look for, to go somewhere where I can feel like I'm at home.
Where I work, we'll do our daily lineup meetings where a lot of the times our manager will ask [what we look for in a bar or restaurant]. We just like to talk and see if any of us ate anything new, explored any new restaurants, and honestly the staff 9 times out of 10 will say that we'll go back to a restaurant because of the atmosphere or the staff, and how we feel when we're there. And even if the food was not exceptional or was subpar, we'll still go back because the experience was so good.

I like where I work because we're geared towards wine and beverage, but we're geared towards food as well, so we get a very big dinner crowd. It's nice because we're usually calling "last call" at midnight–long gone are the days for me of 2 to 3 AM [laughs]. We had a couple of guests that came in last night and it was amazing. My eyes locked with theirs and vice versa–we really looked at each other–and they hadn't been in since last year because they live in Charleston. And they said, "Oh my god, I'm so happy you're here. We remember you from last year!" And I remember them too, so we had this huge hug and everybody was introducing everybody and they stayed and it was fun. So when they said that it meant so much, like I'm doing something at least a little okay because we had that connection.
I'm a fan of cocktails that put twists on the classics, where you don't play around too much with it. Most recently I was with my girlfriend Pam at [this place]—sorry, I'm blanking on the name—and they had a gin martini, pretty much a normal martini, probably like 2:1 or 3:1. They used dry vermouth, but they balanced it with olive oil. And it was amazing. Like, dee-licious. So we're going to go back because it stuck out in my girlfriend's head. She's a big martini drinker, as am I, but she is a bit more. And I'm being honest, I've been doing this for a long time and I'd never had a cocktail with olive oil. It was very unique. And it worked. It worked very, very well. It gave [the martini] a subtle savory note to it and just balanced everything out so well. It looked cool on the top too because it was olive oil, so it was floating. We should all have one. We should have one with AMASS Gin. AMASS is so botanical, so I think it would be very good with olive oil. I'll try it.

Where I work], we had our fall/winter cocktail list that went up probably late September. Obviously you're always playing with stuff you have behind your bar—it's great to have a lot of things there so you can test and sample. And the first thing I do [when I'm coming up with a new cocktail] is I stick to a classic cocktail and try to think outside of the box. You want to try and figure in where you're working too. I work in a very small restaurant called Fedora in the West Village of New York, [which is] a very central location. So we get a big neighborhood crowd and we get the occasional tourist, so you're getting a big mix of everyone. And the neighborhood crowd is very geared toward the classic cocktail, while the tourist crowd, you know, they like variations on things and different creations. So that's the first thing that I think of when it's time to make a new drink. I'm like, what is a guest going to want, what is the neighborhood looking for? I get a feel for what everyone's been ordering, like maybe the prior month before, and then I go out, for instance, to the neighborhood spot I was telling you that Pam and I go to for dinner.
Mind you, I'm not at all ripping off their recipes. But that's what bartenders do–you're looking around seeing what everybody's making and then you're trying to make it your own or maybe just get influenced. So I start with that first. Then, Pam and I have a nice little mini-bar here in our home, so I'll sometimes play around and make mini shots of what I'm making and she'll taste it and say "Yeaaah, maybe add this. " For instance, last year we went to Miami for my birthday—a nice surprise from my lady, let me tell you—and Pam and I actually came up with [this drink] that can maybe fall into one of those interesting cocktails we were talking about. I didn't want to say it because it was mine and I thought that was weird. I didn't want to sound like I was trying to be this egotistical, but a lot of guests that came into the Fedora thought it was interesting and fun. When we were in Miami, my boss Ted–he's our general manager–really wanted me to come up with a variation on a daiquiri. I was like, well okay let's do this. The Hemingway Daiquiri obviously is the classic, so I thought "I'm not even going to touch that."  And my girlfriend and I, we were sitting by the pool, which I wish I was right now, and it was so cute because Pam, who is very into savory things and loves herbs,  looked at me and said, "Honey, what if you infused the rum with oregano?" I was like "What?!" And I'll be damned, we go home, we have rum (we used a light rum), and we infuse it overnight, probably for a good 12 hours. All I did was use the infused rum and just the same specs–we did simple [syrup], we did lime, and it was like...guests loved it. We were infusing oregano rum every day [laughs]. And it was fun, it was a lot of fun. It was really good. We named it "Meet Me in Miami" because that's where we thought of it.

[After I come up with a drink], what we'll do is I'll go into work and make it for some of my coworkers. We'll all taste it together and give each other feedback. I love where I work because we're really a small, tight-knit family. And none of us care to give each other opinions, which is why, to this day,  even if I come up with a cocktail that's mine, quote unquote, on the menu, I always give credit to everybody around me because everybody is helping each other. Our final, go-to person is Nick, our beverage director, because he has to deal with things that we don't think about. He has to deal with, "Okay, maybe we can't use this rum for that cocktail because it costs a lot to get."  That's why Nick is our final go-to because he then can help us find a way to figure out what to order, what not to order, and how to keep the costs down for our restaurant. It's a fun process–I love creating cocktails.
I've been lucky. I moved here and stumbled into hospitality by accident, which I think a lot of people do. And then you learn to grow how much you love it.
Like I told you, I'm turning 45 this year and I'm not at all embarrassed to say I'm a bartender. It's a pretty awesome spot, you know, in the West Village in New York City, because it's a great job. And 20 years ago I never would have thought I'd be sitting here having a conversation with a lovely human on the West Coast about AMASS gin and working in the industry. I just never would have thought my life would have ended up here. I work with a lot of people that are younger... there's one girl who I think I could actually be her mother [laughs]. But it's fun because some of the crew around me looks to me for advice and they have questions because they know I've been able to see how the industry has changed so much. I mean, when I moved here to New York, I was pouring Jack and Cokes. Like that's what I got. This whole wave of mixology and craft beer and natural wine...it all just started to blow up.
I actually had this conversation with Robby recently. I thought that I was losing my stuff because I felt like people 20 years younger than me were ahead of me because they came up with all these wonderful spirits and knowledge. And 20 years ago I was pouring a shot of Jameson and a Guinness. It's been a lot of fun because I had so many fun teachers and guidance and just the crews. 20 years ago, from my first bartending job, I kid you not, probably 3 of the girls I worked with I'm still extremely close with now. That's why I stuck around—it's just so much fun meeting new people every night. Your job is never boring. Of course you have those days where you don't want to be there. I mean, of course. You know, "I don't feel like mixing this drink tonight." We all do it. I'm sure you didn't really want to call me at 8 am. But it's like, you know you just have to do it and then after it's over, you're like, "Oh, that was pretty amazing." You get something good out of it. It's been a fun road, I have to say. I could talk to you for hours and tell you some stories.
Photos by Shannon Sturgis at Fedora in New York City
Interview has been edited and condensed for clarity