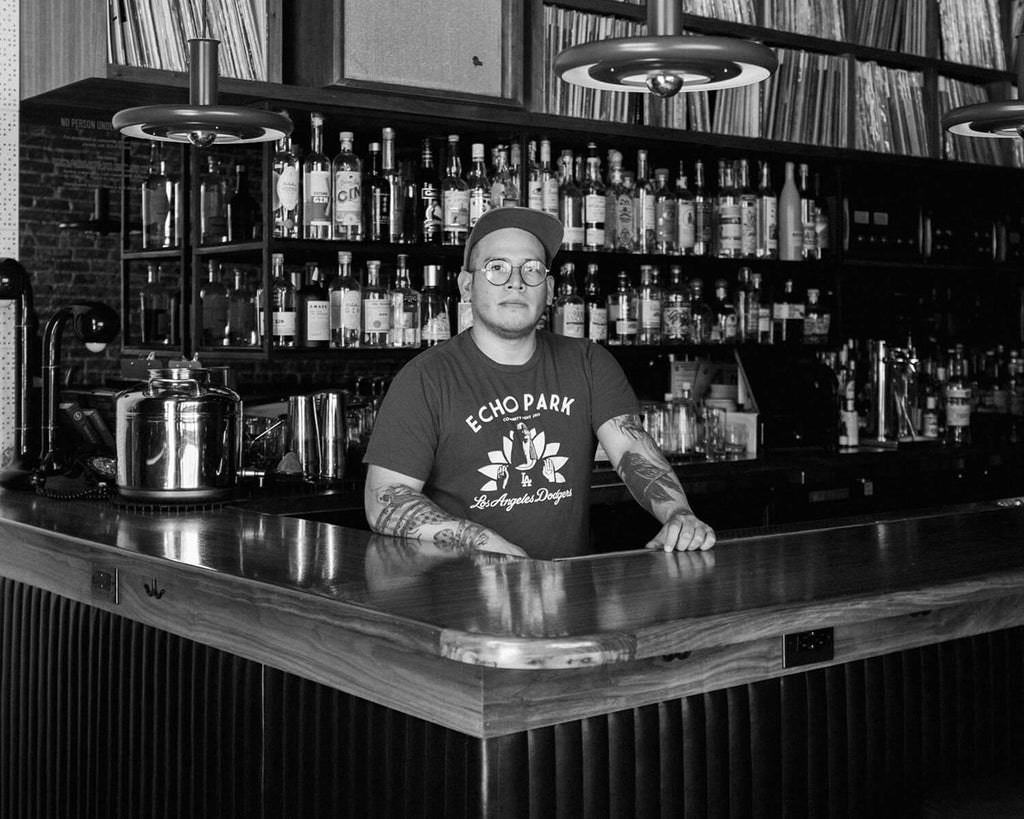 I live and work in Highland Park so I sometimes stay in that little bubble. I've started to branch out and go more into downtown and the west side. I just recently went to Bestia for the first time and that was insane. It was a bunch of delicious food. It was great. One [dish] that stood out because we would eat it when we were growing up – I didn't even know it was called this – gizzards? Have you ever had gizzards before? My mom just used to boil them and then we'd eat them with salt and lemon. It was pretty simple. [At Bestia] they had a dish like that… it was like, "This is what these are supposed to taste like." My mom wasn't known for her cooking.

I like Hippo and Sonny's a lot. Hippo's got some great food, they've never disappointed. And their cocktail program is really on point. Clare Ward does a great job over there. Sonny's is a hidden gem that is waiting to be put on the scene. Jon Navasartian over there has been a big influence to me personally. I would go there after work and just hang out and pick his brain. He was able to do a bunch of things all at once. I'd be like, "Oh! This is a bartender."  That's always fun, to go over there and hang with those guys.
I know how to tell if I want to get a cocktail there or not… As simple as looking at the back bar and seeing what's back there. And also just reading beforehand, if enough people say that it's a good cocktail program, then maybe give it a chance. If I'm going to a place for the first time ever, I'll always try different cocktails to see what they're doing. Or if it's a new menu or a new bar program, give it a shot.

There's cool stuff all over the place, even in Hollywood. You think of Hollywood as a tourist trap, but there's some really cool stuff out there. A couple of the hotels, off of Hudson where No Vacancy is. You'd think it's just gonna be a bunch of kids – and to a certain extent, yeah – but they're still doing quality, high-volume stuff. It's really impressive to see that execution.

I went to Cafe Birdie the other day, it's on the same block as Gold Line. They have an Aquavit cocktail. Not a lot of people do that. The presentation was great, it had this really nice green hue to it. It's a very spring cocktail. It was refreshing, it was light, very well balanced. It had a slight vegetal [quality] to it. The main thing was that it found a way to incorporate yuzu and snap pea… That was the one where I was like, "Oh shit, that was well done, chef."

Especially here in Southern California, you see everybody going for a mezcal or a tequila cocktail. Even at Gold Line, the number one selling cocktail is a mezcal-based cocktail. Mezcal has finally become approachable, where in previous times, you'd be like,
"Oh, mezcal? That's gross. That's like Scotch." People aren't necessarily gung-ho about Scotch, right?
I spend enough time making cocktails that I don't really drink them too much. Pretty easy right now, I'll just sip on a glass of wine and call it a day. But every once in a while, I'll try something new just to see what people are doing. There's some stuff out there that people are doing that are really creative and really different. Even with garnishes, something as simple as that. Personally, I don't hate garnishes but I hate coming up with them. That's one of those things that never really clicked for me, like, "Oh, this would be super cool and cute," or whatever. That's one aspect of my cocktail creation process that I'm not completely in line with.
The first cocktail – it's called Orbit – that one took about a month for me to really nail it. And even after that month, I had to change it to make it easy to execute at Gold Line. In contrast, the second mezcal cocktail is Spa Water. That took a week. Initially it took one try and I was like, "Oh yeah, this is great." And then I tried it with one different ingredient, tweaked the specs one week later and was like, "Oh, this is so much better." And now it's done. Now I'm not gonna fool around with it. It's a completed project. It's over. On to the next one.

I have a handful of people, I respect their palates. They have the same high standards for the cocktail creation process. I know they're gonna give me an honest answer, instead of just like, "Oh yeah it's good,", then turn around and spit it out. It's always kind of fun to R&D on guests as well because they're ultimately the people that are going to be drinking them. If somebody tells me it's too sweet, especially if it's a guest that's telling me that, I'm like, "Oh damn, I better dial that down." With my palate nowadays, I mostly get that it's too bitter or too dry. That's what I love, what my palate likes these days.  I'll have to put a little more sweetness to round it out. It's kind of like with food, if you oversalt it then the dish is caput. But you can always add more salt. That's how I approach sweetness. You can always add more sweetness, instead of trying to add some other flavor to cut down on the sweetness.

Sometimes these things come together very easily and that's great when it happens. But then sometimes you find yourself in a pickle… I have a vodka cocktail now that's taken me about a month and a half to nail down all the specs and get it ready to be on a menu. I can put it on a menu as is but then it's gonna speak for the program… I don't want the impression to be, "Oh yeah, there's one that's really good and then there are 8 shit cocktails." If every single [cocktail] can hit every mark and be really great, that's hopefully what people will get from it. That's my goal. Especially because we don't have food, the cocktails better be able to stand by themselves.
Photos by Ian Flanigan at Gold Line Bar in Highland Park, Los Angeles

Interview has been edited and condensed for clarity