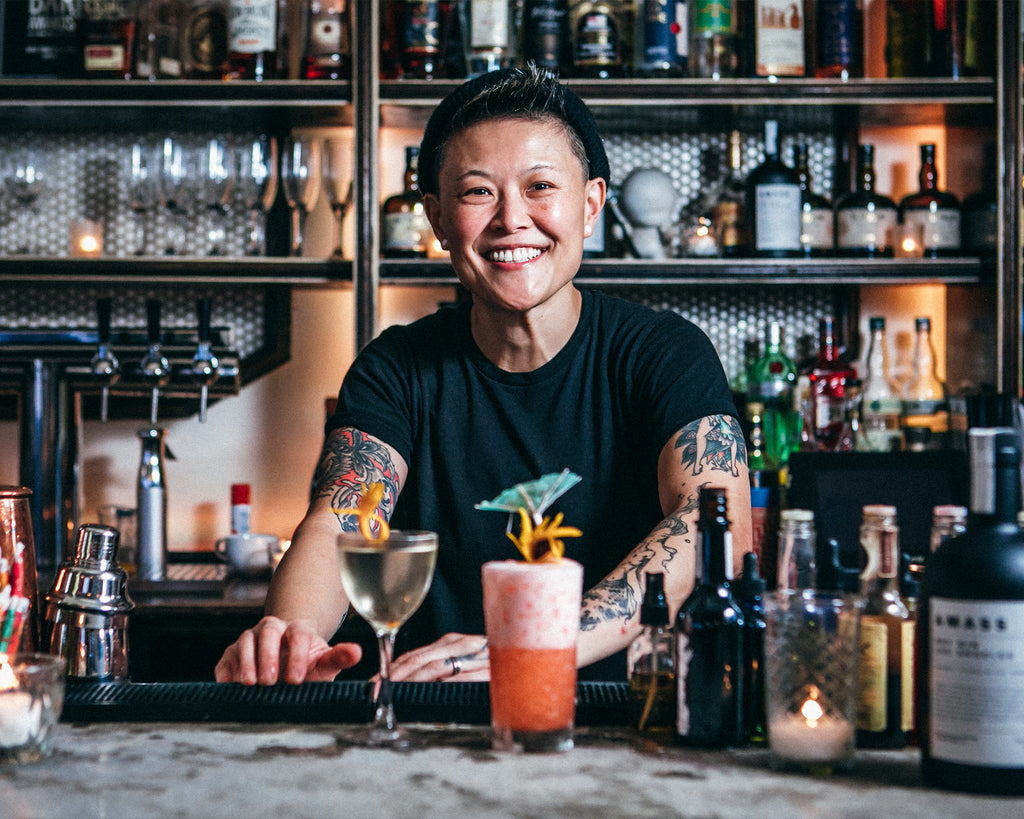 What drew me to bartending initially was making a lot of money in a short amount of time and being around the nightlife scene. I was having a good time with my friends and meeting new people all the time while making money. That was when I first started bartending in gay dive bars, though. Then my perspective of bartending changed when I walked into Donna Cocktail Club for the first time and saw Jeremy Oertel and Matt Belanger bartending.  They were using these funny apparatuses called jiggers instead of free pouring. I was like, whoa, the way they moved with the jiggers, shaking and stirring, there is an art to this! Cocktails that are measured and taste like how the menu describes it? A drink that is not all booze with a splash of soda, tonic, or ginger ale? A creative aspect and art form of bartending? Yes! I want in!
First time I had a classic cocktail was a daiquiri at Death & Co. NYC. I was like pump the brakes, this is what a proper daiquiri is supposed to taste like?  Not those slushy things that are full of sugar and made with Rose's lime?  Good God Rose's lime, that was so long ago and yeah, that was some horrible shit. A daiquiri made with fresh lime juice, simple syrup, good white rum and proper dilution goes a long way. Nowadays, whenever anyone asks me what my favorite classic cocktail is, I say a daiquiri. They usually look at me with a puzzled face and say really? That sugary stuff? And I'll ask them if they have had a classic daiquiri and will make them a little snaiquiri [Ed. note: a tiny Daiquiri meant to be taken as a shot] and they are usually blown away. I have had returning guests switch from whatever the fuck they usually drink to ordering a daiquiri with me, or they will say surprise me and I'll make them whatever I feel like.
Whenever I go out, I'll watch bartenders shake. I'll listen to what's being ordered and I'll watch how they build their rounds if I want to order a classic cocktail, but most of the time I'll stick to wine, beer, or a neat pour of amaro. Honestly, 95% of the time I don't drink. But yeah, I do that, I am that snob, because if I'm going to have a cocktail, I want it made properly from someone who knows what they're doing and looks like they know what they're doing. I am that person who watches to see if the bartender has that awesome shake and if there's head on a daiquiri. It is important to me. I'll also watch bartenders on their techniques to getting out of the weeds. Lauren Corriveau was really incredible and patient about teaching me the art of choreography, like being ambidextrous when it comes to jiggering and pouring. I feel that it is important to show how you bartend fluidly. People sit in front of you for that reason. The bar is your stage and you put on that show for them. Make their night magical. Bartending is like dance choreography. If you have ever had the chance to see Natasha David and Lauren bartend, it is phenomenal. I always strive to be as smooth as them and just as fast. One of these days!
Health is wealth and working out is absolutely important to me.  Not only for my physical health but for my mental well-being. When I work out, it releases so much stress that my body goes through and it helps with my endurance for long ass shifts. My reasoning is if I'm healthy physically and mentally, I won't have to call out sick and I'm 1000% at my job. Bartending is physically and mentally grueling, so you have to be at your healthiest at all times. You need the endurance, especially when you're behind the bar at a place like Donna. You're going to be shaking a fuck ton of margaritas and daiquiris. It is no joke! We are shaking all the damn time, so working out helps with my endurance.
I am always learning new things and exercising my brain and body. I feel it is our duty as a bartender to be in the know with what's going on in the world. People come to bars to engage with you; whether they are having a good or bad day, they are there for some kind of release and attention. They want to tell you their day – a bartender is also a therapist.
The reason I applied for the Wine Empowered: Empowering Women and Minorities class was to learn about wine. It is a non-profit organization seeking to diversify the hospitality industry through formal wine education. I do not know much about wine other than the fact that when I was eight or nine years old, my parents had a lot of wine and never drank it. So I would have some [laughs]. I don't think they know this about me. They also had a lot of cognac and I snuck some of that, too. Anyway, I do not know the language of wine and how to speak or describe wine. Most of the time when I'm tasting, including spirits, I have a hard time describing what I'm tasting and I just want to learn the lingo and the history behind it. I figure if I can do that with wine, I can also translate when I'm chatting about spirits as well. There is a gap, a disconnect, between wine and spirits and I want to connect and bridge it my way. I see a lot of times you're either drinking wine or you're drinking spirits and there's not a lot of people out there that can talk about both. I wanted to be able to chat with and educate our guests on both, so that's why I wanted to do this incredible program that was created by the boss ladies of Cote.
These three amazing Sommeliers created a free program so that people like me, a 44 year old, queer, Asian bartender could learn about wine. I still can't believe that I am one of 23 people that got in out of hundreds that applied. Yay me! I feel so much pressure to do well because I want to represent the spirit world. There is an overwhelming amount to learn about different regions and grape varieties. Viticulture and vinification are similar to that of agave and sugarcane distillates that we have at Donna. I find it very fascinating. The more applied knowledge you learn, the more you can grow as a bartender and as a person, and relate to your guests. That's why some people go out to drink, right? It is to connect. Everyone is so into their social media these days. Behind their computers, their phones. They're not looking up and looking at each others' faces to connect. Being a bartender, you're able to have that connection with people.
It is also humbling to serve and to make mistakes in front of people.
I used to be so scared of failing, and now I take every failure as a learning experience. I mean, I failed my first wine test and cried my eyes out about it. My fiancée, Natasha, was like, if you knew all of this, why would you be taking the class? So with that in mind, I accept that I am going to fail and that's okay. It is how you bounce back from failing.

[When you mess up an order], APOLOGIZE PROFUSELY! Give them free shit! People LOVE free shit!  I usually like to send a round of something special, be it a snaiquiri or something fun. Light shit on fire [laughs].
Sometimes, I feel like I'm spread so thin and ALWAYS working so much that there's no way for me to get inspiration, but there's inspiration everywhere. It's New York FUCKING CITY! If you're a creative person, you can find inspiration anywhere. For example, the first time I tasted Estancia Raicilla, I was like whoa, I got a lot of cheese like lactic acid and tropical notes. It reminded me of this incredible empanada I had that was filled with guava and cheese. I knew that I was going to make a cocktail inspired by this fucking empanada.  So there's a cocktail at Donna that has Raicilla, Cognac, Mexican rum, guava, lime,  and a dash of Giffard Mente Pastille. I called it Battle of Puebla, because it's when Mexico got their independence from France. The name made sense to me because of the French and Mexican spirits that go so yummy together. 
I LOVE a slightly dirty AMASS 50/50! I make it with AMASS Dry Gin, Manzanilla sherry, blanc vermouth, and a dabble of dirty olive juice. I call it "the shift drink" and it is my go to. Sometimes when I have a lot of time on my hands I will make my own Gibson onions and do a little 50/50 with that yummy juice.>
I'm going to be working on a sommelier's certification so that I can try to bridge spirits and wine together.  The dream is to do more cocktail styling for photo shoots, travel more and bartend while I travel, maybe put Donna on the map. I think the end game is to live bicoastal and maybe live in another country?  Share and learn cultures and views with people. I mean, that's the way of life, right?
Photos by Shannon Strugis
Interview has been edited and condensed for clarity