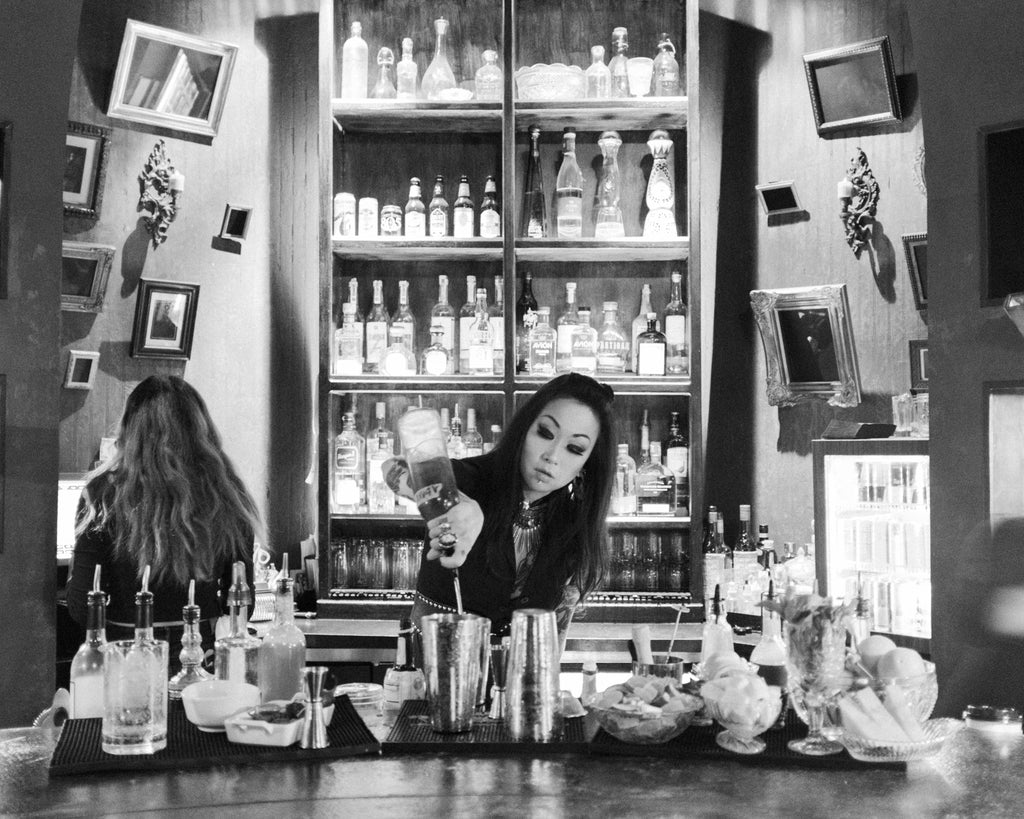 On my nights out, I try to focus on either new, fresh spots with fresh ingredients, going to shows of bands I love or want to check out, or hitting places with unique concepts I haven't experienced yet. I like to go visit my industry friends wherever they work.  I never get to see anyone because I work so much so it serves as kind of a "tradesie boomerang" for them always coming to see me.
If I'm downtown, I'll go to see the gang at Mezcalero, or go see my friend Christina at Wokcano, or I'll head by to see the homie Trafton at ACE [Hotel] or ERB [Everson Royce Bar]. I also have always loved going to The Edison, Las Perlas, Bar Clacson and  Slipper Clutch... It's Bar Clacson in the front and Slipper Clutch in the back. It's awesome. My friends work in both of those bars. It's in the back of the La Cita parking lot, in the Grayson building. Right where the Grayson sign is, is Bar Clacson. And if you go through the bar to the back door it's Slipper Clutch. Clacson is craft cocktails and [Slipper Clutch] is a game bar – it's punk rock, pinball and pool. Their thing over there is they do housemade sodas and their cocktails are on a gun system. Their old fashioneds are on a gun, their margaritas are on a gun... Even their jack and coke is one button. And their coke is not Coke, it's their coke.

In Hollywood, my go to spots would probably be Burgundy Room, Harvard & Stone, No Vacancy, Frolic Room... but again, I love lots of places. Mark, Natta, and the amazing crew at Paper Tiger are amazing – it's a super fun destination, and they really welcomed me in and supported me. Westside bars are cool like The Bungalow, Misfit, Basement, and others depending on where we land and how much time we have.

I have some valley local favs as well such as The One Up, Ireland's 32, Black Market, and Firefly. My boy Brad that works at Perch with me, also works at, The Sherman, but upstairs in The Attic. Sometimes we go to The Federal in North Hollywood or in LB. It just depends on my mood, appetite, location, the atmosphere we're looking for.
As far as cocktails go… I'm pretty to the point and a simple, straight-up booze girl. Scotch, whiskey, tequila, mezcal, maybe wine or a beer here and there. I'm not one to really be demanding since I can relate to the job. Every once in a while I'll enjoy a cocktail. I really love The Pistolero from The One Up and some of my mixologist friends make some of the best stuff so I indulge here and there.

Personally, I'm whiskey, tequila and mezcal. I love gin, I always have loved cocktailing gin, it's super classic to me. I'm really glad that it's coming back into the spectrum as one of the top spirits. I think that a lot of people – unless they were older and more traditional – were kind of scared of gin for a long time because they didn't understand it and it is an acquired taste. But people, once they realized what you can do with things and the levels of options available… it's so versatile. All gins have so many different ranges, where you can make 3 different AMASS cocktails with different ingredients and [have them] be completely different worlds. That's what I love.

People are like, "Oh, I really just can't drink tequila or mezcal or gin or..." Nobody ever says that about vodka, because… it's vodka. When I hear that, I get excited and tell them,
"Well, I'm gonna make you something and try it. If you don't like it, we'll give you something else."
Unless they tell me something like, "Gin makes me angry." [laughs] [But] if it's more a personalized palate thing… I love experimenting with that because I love opening up people to things that they feel closed off from for certain reasons. Maybe they weren't exposed to it in the right way or they didn't realize they could have it in ways where they actually could enjoy.

The martini that I did over the weekend for AMASS is a hot ticket. It's called Empress. It's muddled basil & cucumber, creme de peche, elderflower, AMASS, lemon, grapefruit, sparkling rosé and orange bitters. It's super smooth, super tasty, and sooo yummy. It's even better when I'm able to light it up and fire it with citrus oils.

I've been on my own since I was 13. The summer that I turned 15, I was throwing raves, booking entertainment, promoting, making art… just riding the wave and following my intuition. It was mad money, it's how I paid my way through life and school at such an early age. I made some amazing friends then, many of which I still consider family, and it's because of them I was able to find my way in this world to where and who I am now. That summer I was offered a chance to learn a craft and earned my full mixology creds. I loved it and I've been bartending and consulting ever since.
I love it all. I love trying new spirits, the creative aspect of it, of being able to make new things and customize them to people individually.
Plus I really just love people, the networking, and social aspect of it. Because I work all the time, pop ups and random invites are the primary ways that I get to socialize. After almost 23 years of bartending I feel extremely fortunate... I constantly get to meet people from all over the world and be revisited by them year after year regardless of what city I'm in. On their vacations, on their work trips, for their celebrations and their memorials, for some reason they always make sure to swing by and see me. People and creative freedom are my favorite parts of all of it, for sure.
L.A. is awesome in the fact that it's a booming industry and it's super ambitious. I love that L.A. is the most ambitious city that I've ever lived in. At the same time, it's completely different from the East Coast. On the East Coast, they bring back roots and they discover things and then they work really hard at mastering it... In New York City, people put a lot of passion into their craft… They're a little bit more meticulous about it on the East Coast.

On the West Coast, it's a little bit looser and more about who you know. I feel like the West Coast is so involved in [the] discovery of new things. I think that's equally as important. Here, it's like, 'try this new thing' and it's awesome because you get variety and you get a chance to experience things that you have never experienced before. The spirits industry is so crazy right now because everybody is jumping on board with distillation and cordials and making their own spirits, so everything is new and a sort of different kind of competition all the time. It never gets boring, it never gets old, and it's always advancing. I love this city and I'm thankful to be here.
Photos by Ian Flanigan at Paper Tiger in Koreatown, Los Angeles
Interview has been edited and condensed for clarity