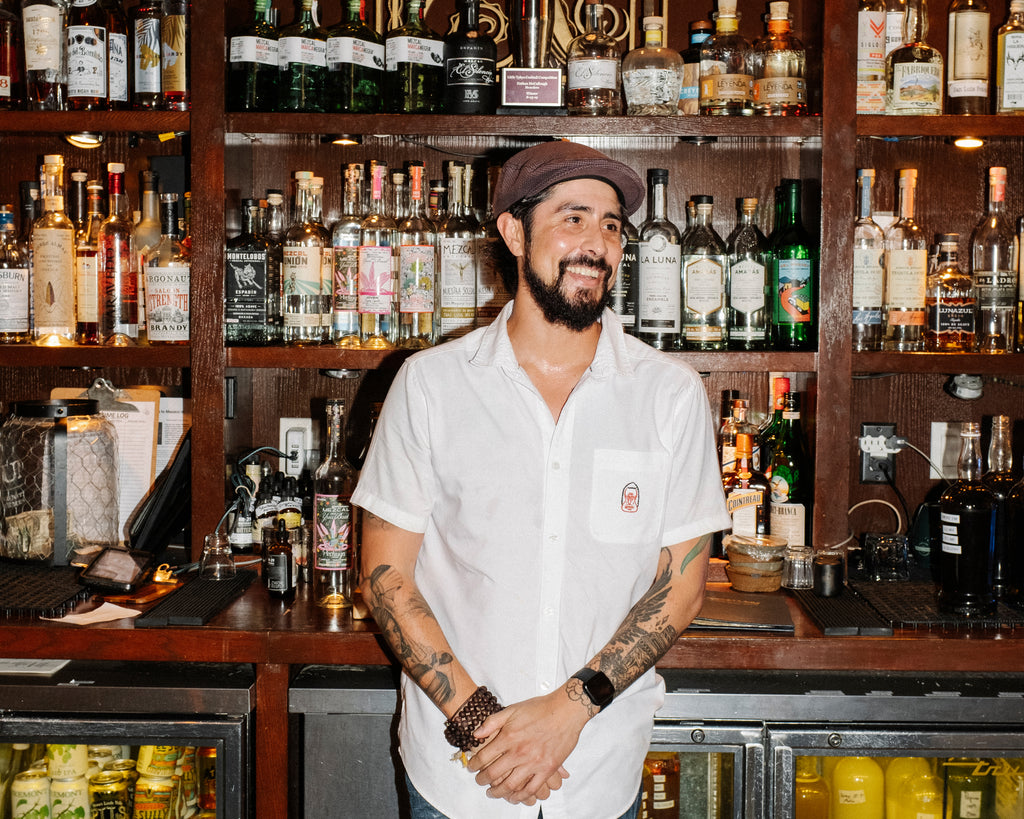 I'm somewhere in between a creature of habit and someone that's willing to experiment. If I hear about a new spot that has great tacos or fried chicken or sushi, I always want to try it. And by going to these places, I get the opportunity to think of new ideas for cocktails, for food pairings, for dinners. But other times, a night out for me is going to my local dive bar where the bartenders know exactly what I  want. I think because I've written so many menus and worked with so many people, I really love the simplicity of being in a dive bar, like La Cita. I love Bar Clacson. I mean, to me, they have the best cocktails in town. At least from what I remember. I don't really drink cocktails that often anymore, though--I'm more of a Miller High Life and a shot of Fernet kind of person.

I think I don't really have a typical night because I'm always in a new place. Here's a good example: this Monday, I went up to [McGrath Family] Farm and got to talk to a lot of farmers that are producing food for more experimental chefs. They're growing produce and herbs in a way that's good for the environment—it's regenerative—and they're trying to take care of things. I've always thought the best cocktails and the best cocktail menus are ones that have stories behind them. Because you can gain a customer for the rest of your life simply by creating a memorable experience. That's what I'm always after—having a good experience.
I've recently gotten more into cooking. I don't make cocktails at home anymore, really. Instead, I have a very nice spice cabinet. I like to work with fresh ingredients and splurge on cheese and oils and dressings. I love getting up and cooking for myself and my kid. That's really fun for me now. This year, I tried to master cracking eggs open with one hand. Being able to crack an egg and actually make a good, over-medium egg for my kid, because that's how he likes his eggs, was important to me. I like to challenge myself constantly and try to be technical in cooking as well as bartending.

I don't bartend constantly like I used to. I do guest spots, and I collaborate on menus and, if I have to step behind the bar, I can. But I don't do shift work anymore, where I'm going in and clocking in at any place. People ask me all the time, "Why not start bartending again?" And the truth is, I'm close to being 40. I have a 12-year-old kid. There's not a lot of people in our industry that have an almost-teen.

I've gone many, many years where I'd come home and be home for a couple minutes before I'd pass out, or I'd just eat dinner and go to sleep and wake up, be a dad for 15 minutes, get him to school, and then have to go back to work. I missed out on a couple years where I was doing 80-hour, 100-hour weeks to make sure that the bar was up and running.
It's hard on almost every aspect of your life. It's hard on your family life, hard on your social life. But some things are a little easier.
I hung out with some of my friends at work because they were at work. Sure, a lot of the time we were working, but we were also hanging out. It's a lot easier to do that behind a bar than it is when you have a desk job.

Now, if I'm hanging out in DTLA, usually I'll scroll through Mezcalero, because that's where my pals are. In some cases, I've actually gotten friends jobs at bars I go to. I always like seeing people that I have brought up in the industry or taught to some degree. They teach me new things--I'm not as hip as I used to be, you know. So, that's part of the draw for me. The other part is that I like being at bars that are busy. I like seeing how to make things more efficient, and I'm constantly looking at how bars can be better. Most times, if I go to any restaurant or bar, I want to watch the bartenders. I never comment, obviously, on how things could be improved. But when I get a new contract or account, I can implement what I saw into the new place.
Working as a bar consultant, I see a lot of trends coming and going. For example, there's a big agave trend right now in DTLA. But that trend in DTLA is not the same one that is in Ventura County, or the Inland Empire, or Orange County, or San Diego—it's very specific. I think that in cocktail culture right now, we're all on the verge of being "mixologists." And I hate that term. I think right now, making a basic drink taste good is almost more important than crafting a cocktail with 17 ingredients in it that most people aren't going to taste. And not to mention, you have to keep a business up and running. We need to get drinks out quicker in order to keep people satisfied. Hospitality is a big part of it--it's not all about the bartender that wants to put out a cocktail with over a dozen ingredients in it.

Whenever I would train bartenders, I was always looking for someone that wanted to be a "lifer," someone that wanted this to be their career. You know, I went to school, I have two degrees and I don't use either of them. I made a decision, a firm decision, that I wanted to be a barman, whatever that meant. Whether that was being a bar manager, a beverage director, a consultant, a brand ambassador--I wanted all of it. And I think that's important. Can you make a cocktail and give people attention and have a conversation? Whenever I trained any bartender, I always told them, "Try to be their only bartender." You only have one person that does your taxes. You only have one optometrist. You only have, hopefully, one lawyer. And that's the person that you always go to. It's not that your bartender pours a better shot of whiskey than someone else, but at least they know what kind of whiskey you like.

I really like teaching people, which inspires me to keep learning. It's really hard to teach people something when you don't know the ins and outs of it yourself, so I try to learn the differences in the spirits I like. Take gin for example. You have AMASS, a modern-style gin that is using so many different great ingredients that are, to some degree, California ingredients. It's just a beautiful gin. But then, I also love a London Dry, like Ford's Gin. It's a different style of gin. Completely different. How do you explain that to someone?
I think what drives me is the fact that I don't know everything.
I want to learn from the top chefs, I want to learn from the world-renowned bartenders, I want to learn from the local farmers. I want to meet the mezcalero and the distiller that is making the juice, making me a living, technically. I just don't want to be mediocre.

This is a hard industry to be in and not stay stagnant. You have to find new ways to challenge yourself. I love it when people say I can't do something. I'll find a way.
Photos by Ian Flanigan at Mezcalero in Downtown Los Angeles

Interview has been edited and condensed for clarity