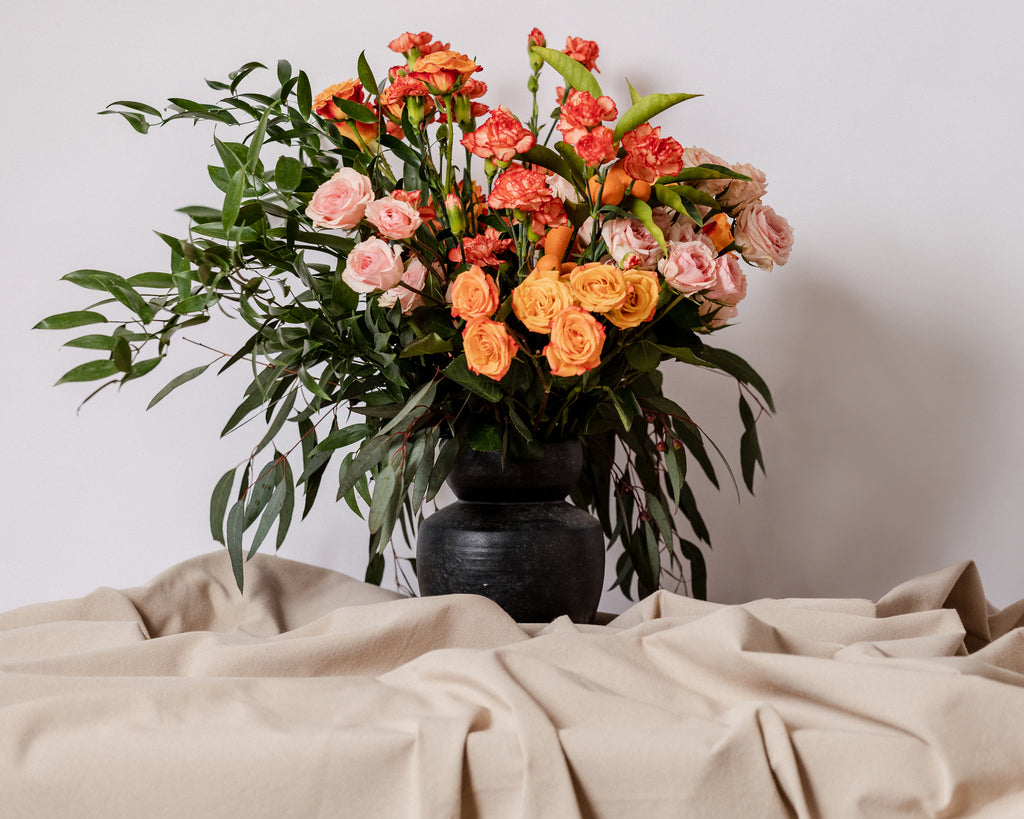 A bouquet of flowers for Mother's Day is the oldest trick in the book, next to maybe breakfast in bed or a hand-drawn card. But where does the tradition stem from, and what flowers are associated with the holiday?
It all started with a woman named Anna Jarvis. Born in West Virginia in 1864, Anna would go on to found Mother's Day in 1908, three years after her own mother's death. It would be a few years later, in 1914, that President Woodrow Wilson would formally declare the second Sunday of May Mother's Day (it wasn't until 1972 that Father's Day became a national holiday, if you're keeping track).
What started as a way to commemorate Anna's own mother quickly became a way to recognize mothers everywhere. In celebration of the first memorial, Anna gave the events' attendants 500 white carnations, her mother's favorite flower.The flower became an important symbol of the holiday, as Anna explained,
The carnation does not drop its petals, but hugs them to its heart, and so, too, mothers hug their children to their hearts.
Over time, the floral industry commodified the flower, even introducing red carnations to meet growing demand. Prices went up, and Anna's original symbolism behind the carnation faded, instead taking on a new meaning; the red carnation was gifted to mothers, while the white carnation was used to honor mothers who had recently passed, placed on their gravestones as a tribute.
It wasn't just the symbolism that changed; aware that Mother's Day was quickly becoming a cash cow, greeting card and confection companies quickly hopped on board as well, creating their own product lines gearing toward celebrating moms everywhere.
Anna, fed up with the the commercialization of a day founded on altruistic grounds, boldly spoke out about the trivialization of the day, at one point saying, "A printed card means nothing except that you are too lazy to write to the woman who has done more for you than anyone in the world. And candy! You take a box to Mother—and then eat most of it yourself. A pretty sentiment."
In 1923, Anna went so far as to stop the day's festivities by disturbing white carnation sellers, though she was shortly arrested for her public order violation. Her attempts to have the holiday formally rescinded also failed. And despite her best efforts, Anna's unwillingness to adapt to the times led to her own economic hardship; when she died in 1948, it was the floral and greeting card companies that paid for her medical bills.
Fast forward to today, when Mother's Day is still widely celebrated, remaining one of the biggest days of sales in the floral and greeting card industries.The most common gift? Flowers, though the carnation isn't the only popular pick; tulips, daisies, lilies are all common choices, though your mom's favorite flowers is always the best bet in our book.
Fascinated by flora? Read up on the history of the L.A. flower district, or dive deeper into the origins of the poinsettia.