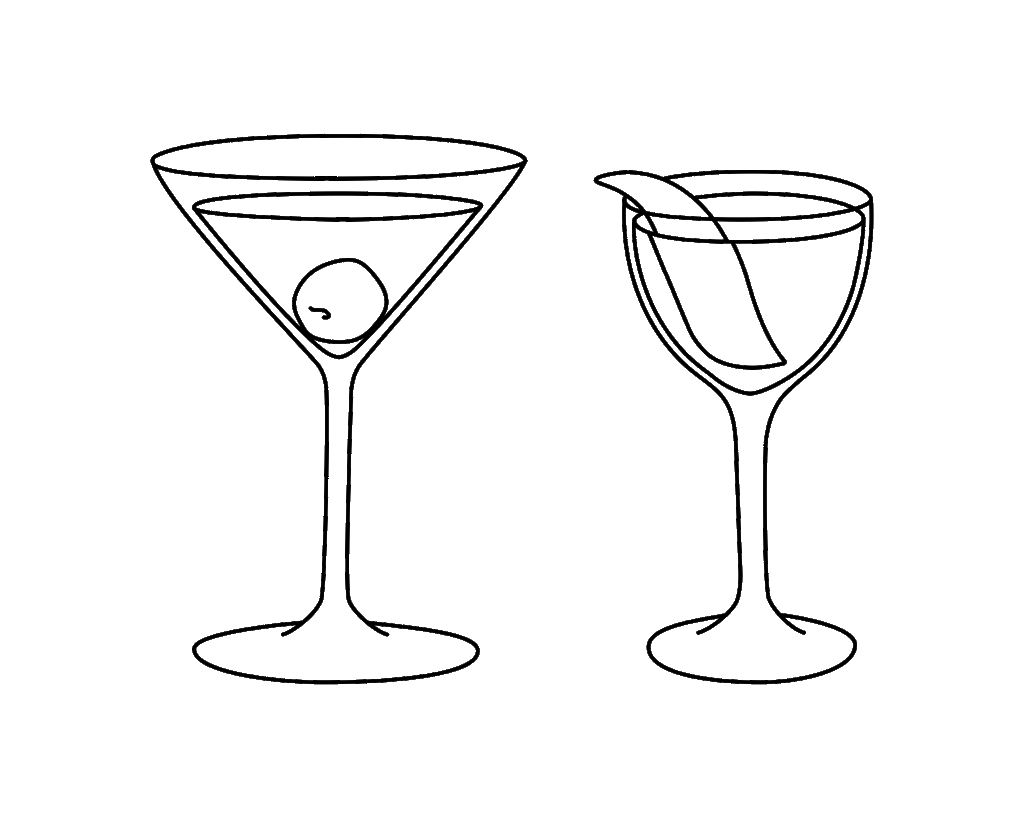 When you think of martinis, chances are you think of olives. With the exception of the lemon twist, olives are the quintessential garnish for the booziest of classic gin cocktails. And varieties abound. Manzanillas and Spanish Queens are the standard fare, though I'm personally partial to the neon green Castelvetrano variety with its mild sweetness and buttery texture.

But when it comes to martinis, perhaps the more interesting question isn't "how," but "why?"

Why, dear reader, do we put olives in our martinis? Who was the first salt-crazed scoundrel to splash some OJ (olive juice, baby) into a glass of gin and take a swig? How — and again, why — does it somehow work?

We don't add olives to our martinis for the aesthetics alone, though the glimmering green orbs do invite a sense of reverie when bobbing up and down in a vermouth-washed coupe.

Rather, the savory olives act as a pleasant foil for the bright botanicals in our gin and vodka and help settle the drink's intense booziness. They add a certain je ne sais quoi, a briny oceanic bite of salinity that mixes and melds nicely with botanicals like lemon, angelica, ginger, cardamom, and yes, juniper. And of course: they offer a built-in snack, too.

While the dirty martini has become a standard iteration, the OG martini skewed more sweet than savory. Cherries, among other fruits, were added to the drink alongside syrups and bitters, and often with a heavy pour of sweet vermouth.

These days, the modern martini is served very, very dry, but that wasn't the norm at their advent. In the 19th century, martinis were served either upside down with more vermouth than gin, or as a 50/50 with equal parts of both. Sometimes absinthe got in the mix, other times not. But gin and dry vermouth – the major players in the martinis we stir, sip, and love today – were often an afterthought. Olives had not yet made their way to the party.

That all changed at the turn of the 20th century, when James Bond sipped a shaken, not stirred martini on screen and FDR brought the dirty tini to the masses. At a dinner party, President Franklin D. Roosevelt infamously shook up a dirty martini for martini aficionado Winston Churchill, who later described FDR as "an enthusiastic but sloppy mixer." Later, in 1943, FDR insisted on shaking up his signature drink for none other than Joseph Stalin, who remarked that "it was cold on the stomach," but not unpleasant. And with two out of two less than rave reviews, one by a Soviet dictator, the dirty martini entered into the popular imagination.

Unlike FDR, there are a lot of bartenders and at-home mixologists these days getting the martini right. From EVOO washed vespers to versions spiked with pickled veggie juice, there's a martini out there for the dirtiest among us.

And if you made it to the end of this article while having an aversion to olives? Bravo to you. Here's a 50/50 for your troubles.