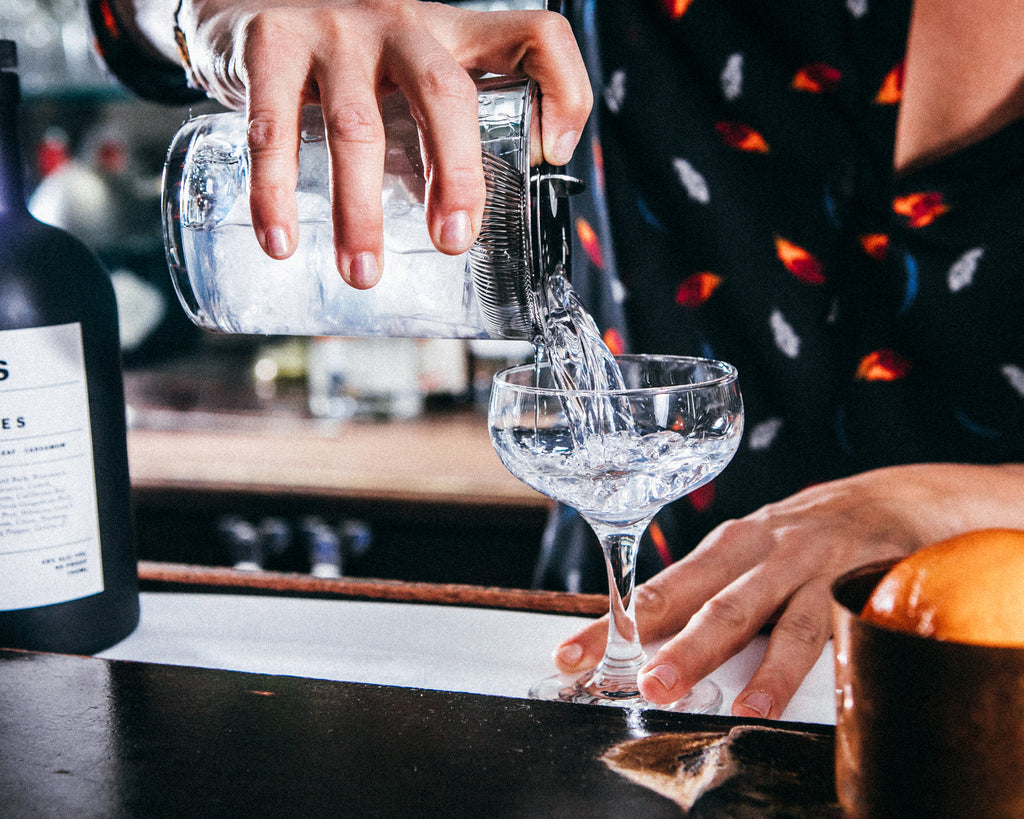 Before there were cocktails, there was punch.
In 18th century England, big bowls full of booze, juice, and spices were served in punch houses across the country, the Age of Enlightenment equivalent of Jungle Juice. Then a more civilized way to imbibe was devised, and the sling was born, a mix of sugar, water, and liquor served neat at room temperature.
It wasn't until 1806 that bitters got in the mix and the cocktail was formally introduced in The Balance and Columbian Repository, where it was defined as a "stimulating liquor composed of any kind of sugar, water, and bitters." As you can imagine, the lack of acid from lemons and limes made these pre-Prohibition potations incredibly sweet, and the lack of ice at the time made them tepid at best.
The Age of Enlightenment equivalent of Jungle Juice.
Over time though, the cocktail got better. Jerry Thomas, the writer behind The Bartender's Guide, had a lot to do with that. His book became an encyclopedia of sorts, with recipes to classic cocktails like a mint julep to an eclectic mix of now antiquated drinks, including Balaklava Nectar, made with claret, soda water, champagne, and lemon, and the Locomotive, a whiskey cocktail with lemon and Cointreau.
Then, in 1920, Prohibition abruptly halted the growing cocktail movement. People were still drinking, sure, but the secrecy of that drinking often meant moonshine in basements, not martinis in parlors. Many talented bartenders left to work abroad, and when the 18th amendment was repealed in 1933, people were ready to drink their spirits straight, cocktails be damned.
Of course, over time, cocktail culture picked back up. The Mad Men of the '50s and '60s, with their copious Old Fashioneds and Manhattans and Martinis, made sure of it. And while there was a brief hiatus in the late '60s into the '70s, where cannabis culture took over, by the '90s another cocktail renaissance was underway.
Cranberry juice became popular due to its purported health benefits, and the earliest iteration of the Cosmopolitan began to pop up around gay bars in San Francisco. In 1988, the Cosmo landed in the capable hands of Toby Cecchini, owner of Long Island Bar in New York, who modernized the saccharine drink by swapping Rose's lime and grenadine with Cointreau, fresh lime juice, and of course, cranberry juice.
Other decidedly '90s cocktails include the Espresso Martini, the Appletini, and the Bramble, a gin cocktail made with Giffard Crème de Mûre. These days, drinking trends have evolved in favor of classic cocktails with a subtle twist (think: a martini washed with olive oil). But despite the Cosmo no longer being the drink du jour it once was, we still love the power cocktails have to serve as a portal to the past.
Curious about the story of cocktails past? Read up on the history of happy hour, or take a deep dive into aperitivo culture.