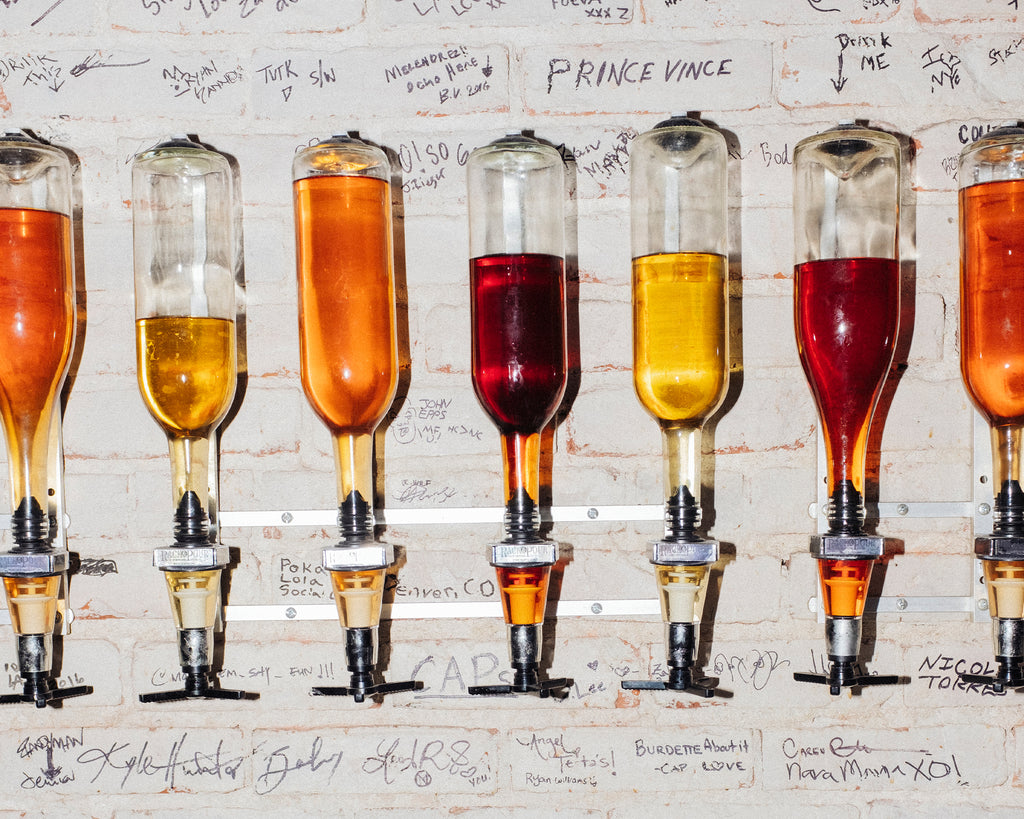 Do you remember the last bar you went to?

Maybe it was small, cramped, dim with the warm glow of tea lights on tables. Tucked away in some hidden alleyway in Los Feliz. The kind of bar that feels like a secret, until 9pm rolls around and you realize the rest of the neighborhood is already in on it.

Or maybe it was a cathedral of cocktails, all high ceilings and echoing conversation and some serious R&D going on behind the bar. Rooms leading into rooms, staircases unfolding into unknown worlds.

Or maybe it was a tiki type of joint, with heavy pours of rum and banana leaf wallpaper. An institution of celebratory cocktails you wouldn't dare make at home; piña coladas and daiquiris and drinks that require a heavy shake.

Since bars closed last March, we've thought a lot about the simple pleasures that come with a night out on the town. The pre-game playlist, the squeak of vinyl seats when you sidle up to the bar, the dizzying array of bottles on the back bar. The glimmering ruby hue of a perfect Negroni.

It's a sensory experience we find ourselves craving even more now that our sights and sounds have been relegated to the same four walls for nearly a year.

And perhaps the part we miss most? Chatting with our local bartenders, the friendly faces behind the bar that dole out advice like the hospitality industry's unofficial therapists and churn out drinks at a clip that any at-home cocktail shaker could never match.

Over the past year, bars have taken on many forms: cocktail outposts serving martinis in mason jars, sidewalk patio spectacles, even indoor shells of what they once were, set at 10% max capacity with distanced tables. Through all this shapeshifting, the bartenders and bar backs that make up the industry have remained committed to upholding what has always kept hospitality together at the seams: a sense of community.
Now it's our turn to take care of them. Here's how you can continue to help:
1. Order takeout straight from the source.
You've probably heard by now that the big delivery apps like Grubhub, UberEats, and Doordash are predatory to independent bars and restaurants. Instead of ordering through them, call up your local haunts and place your order directly, or order through a more ethical platform like ChowNow.
2. Donate to community organizations.
We love Restaurant Workers' Community Foundation, a nonprofit created by and for restaurant workers dedicated to making the hospitality industry more hospitable to everyone.
3. Stay safe and tip big.
We're itching to get back to bars, but the best way to keep our hospitality community safe is by staying home when you can, ordering often, and continuing to tip at least 20%.