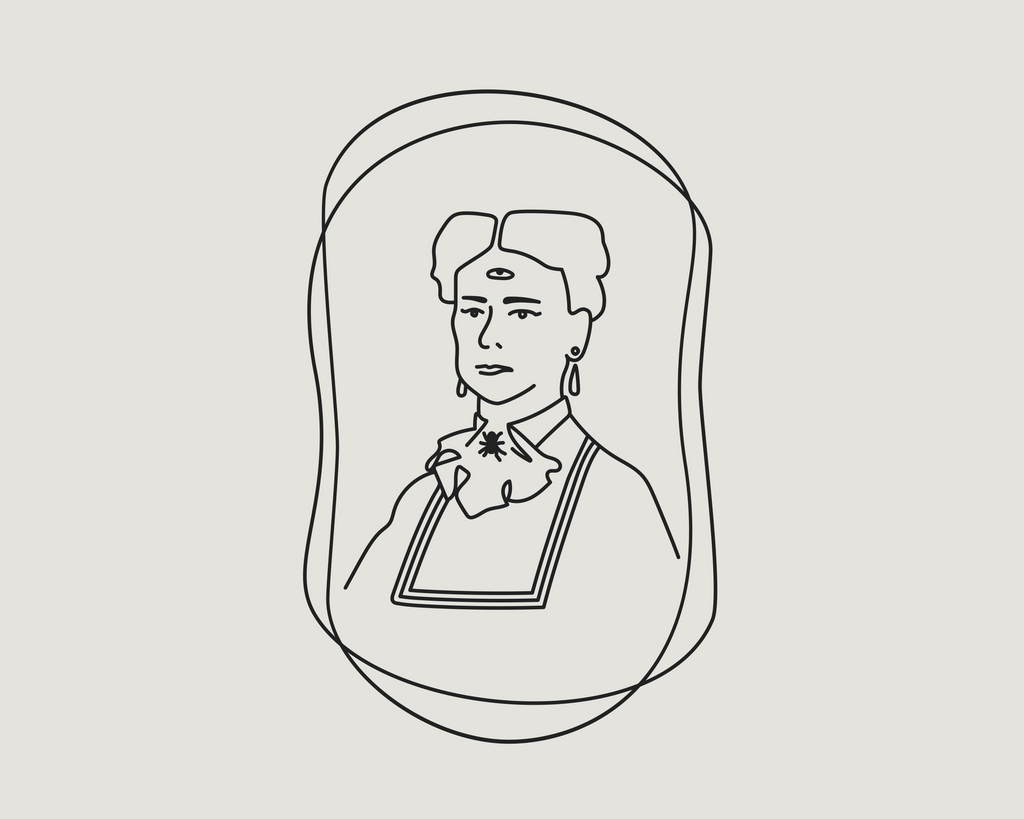 At AMASS, we have a bit of a preoccupation with the occult. After all, our Chief Product Officer and Master Distiller is a practicing witch with a penchant for herbal remedies. So, when we heard about the Progressive Era witchy weirdos that were hanging around Portland in the 19th century, we needed to know more.
There are certain characters that the history books forget, women whose stories are buried under centuries and centuries of men in suits. Lucy Rose Mallory was one of those women.
Born in 1843, Lucy Rose Mallory was a psychic, a suffragist, a vegetarian, a devotee of metaphysical experiences – the kind of woman
Portland Monthly
once called "an internationally respected good vibes factory." She was, in a word, an
icon
, and was born in Michigan before moving west with her father into the unbroken wilderness of mid-19th century Oregon. The Roses settled in a city in the Umpqua River Valley that would later be named Roseburg in honor of them.
As an adult, Lucy was probably known best as the wife of Oregon congressman Rufus Mallory. But her work – as a writer and editor, namely – has endured. For 30 years, she ran two periodicals printed under one cover –
The World's Advanced Thought
and the
Universal Republic
. She wrote passionately on a myriad of topics: a small spider she had befriended, the power of collective positive thinking, her experience with astral projection as a child. Of the spider, Lucy wrote upon feeding it a dead fly,
"It soon became very friendly, and it would eat from my hand, and run all over my head and face, and it appeared to love me." Life, it seemed, Lucy experienced as one big out-of-body experience.
Leo Tolstoy was such an ardent admirer of Lucy's monthly magazine that he swiftly declared her the "greatest woman in America." This was not an unpopular opinion. Across Portland, Lucy attracted the attention of advanced thinkers and workers, who were devoted readers of her magazine and attendees of her twice-weekly parlor meetings in which she led séances. What Lucy spoke became gospel, her musings on New Thought – the simple belief of mind over matter – championed by her league of loyal followers. She was the psychic friend to the city's social elite, and the first to establish and maintain a free reading room in the city. For 30 years, she opened its doors to anyone and everyone who wanted to enjoy the rare books on spiritualism and philosophy that lined its shelves.

Her commitment to her community did not stop there. Back in 1874, the old slavery prejudice ran so strong in Oregon that 45 Black children were forbidden from attending the Salem public schools, as no white teachers would teach them. Lucy volunteered to instruct them for the three years it took for the opposition to end and for the children to be admitted into the public school system. The money she made sat in the bank, as she had no use for it.

In her free time, Lucy sat on the boards of associations and clubs like the Oregon Vegetarian Society and the Association of Artists and Authors. She was, perhaps most importantly, a lifelong member of the National American Woman Suffrage Association, and fought for the right to vote just as she fought for the right to education. She died in September of 1920, just one week after the ratification of the 19th amendment and two months before eight million women would rush to the polls for the very first time.

100 years later, the story of Lucy Rose Mallory, an otherwise forgotten figure, is important to remember and retell. She  was a woman of the people, an active advocate and celebrated psychic, a friend to both Tolstoy and spiders. If there's a moral to her story, it's this: be more like Lucy (and don't forget to cast your vote tomorrow).