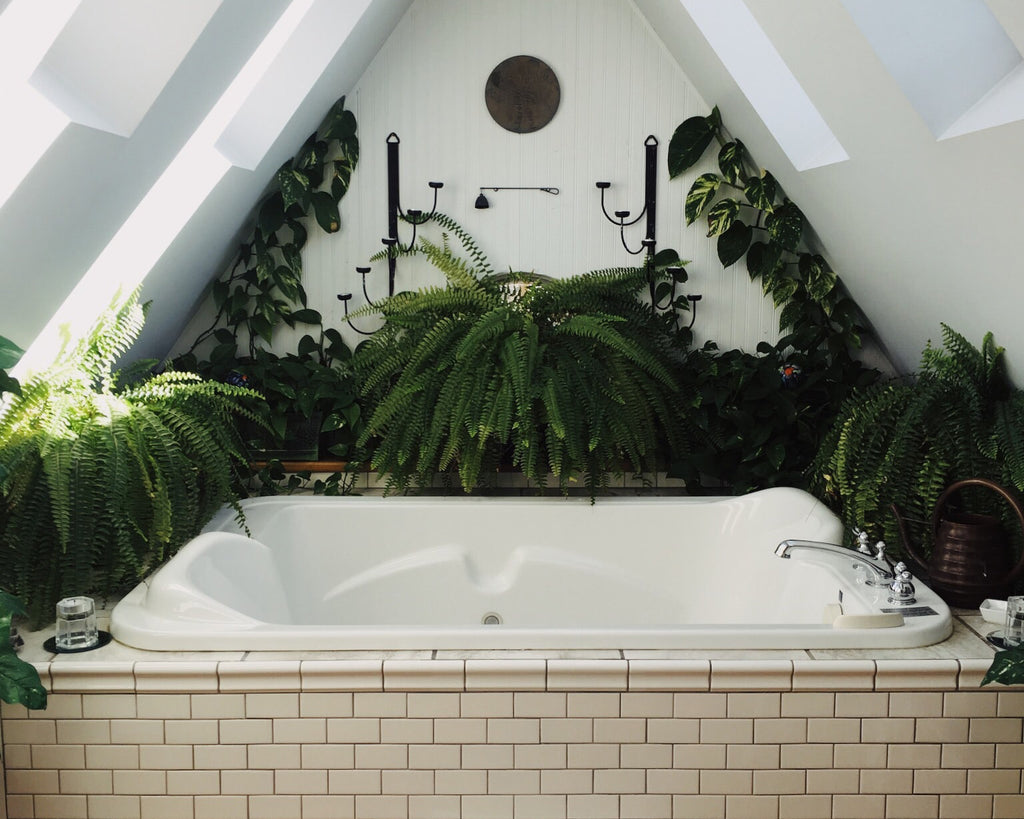 Bathing has always been about much more than getting clean. The act of slowing down for a soak is synonymous with self-care, and that's been true since humans first had the thought, what if we sat in some hot water?
The history of tub time starts in ancient India, where the daily ritual of bathing first began. In Ayurveda, the Indian system of medicine, water is a purifying force thought to cleanse not only the body, but the mind and the soul. That's why the vedas and puranas recommend bathing not once, but three times a day, an elaborate hygiene practice that was first recorded in the Grihya Sutra, a Hindu text detailing the samskaras, or ceremonies, that guide a person's life.
While the ritual or regular bathing was first devised in India, the bathtub itself dates back to around 1500 BCE in Crete. Alabaster bathtubs excavated in Santorini and the frequent appearance of the Greek word for bathtub in Homer's literature suggests that bathing was not just a hygienic practice for the Greeks, but a way of life.
The same was true in ancient Rome, where a network of aqueducts was developed to supply water to all large towns. The advent of the aqueduct brought with it thermae, or Roman public baths. What was once a private affair very quickly became a public spectacle, and these cathedrals of cleansing became a place to converse, learn, and quite literally blow off some steam. Within their walls stretched lecture halls, Greek and Latin libraries, and baths at every temperature.
Public bathing quickly became a part of life in other parts of the world as well. Dating back to 1266, the earliest iterations of Japanese bathhouses were built into natural caves or stone vaults, which were heated by burning wood before seawater was poured over the rocks to create steam. The entryways to these bathhouses were made intentionally small so as to slow the escape of heat. Because of this small opening and a lack of windows, the inside of these bathhouses was pitch dark, meaning users would have to clear their throats to announce their arrival. The combination of nudity and dim lighting meant that sexual shenanigans often arose, and in time these public bathhouses would come into disrepute on moral grounds.
Morality wasn't the only thing to bring an end to public bathing. Disease, unsurprisingly, ran rampant in these bathhouses, which without soap or other germ-killing agents became cesspools of sorts. With health concerns looming, private baths grew in popularity and became increasingly accessible to the working class. As cleanliness became more and more correlated with social standing, soap became all the rage, too.
The rise of the private bath has brought with it new bathing rituals. Complete with bath salts and bubbles, the tub has become a place to take care of yourself and indulge in some alone time. It's a decidedly different approach to bathing than the Romans had with their amphitheatre-like bathhouses, but the principle still stands: bathing has always and will always be about much more than getting clean.