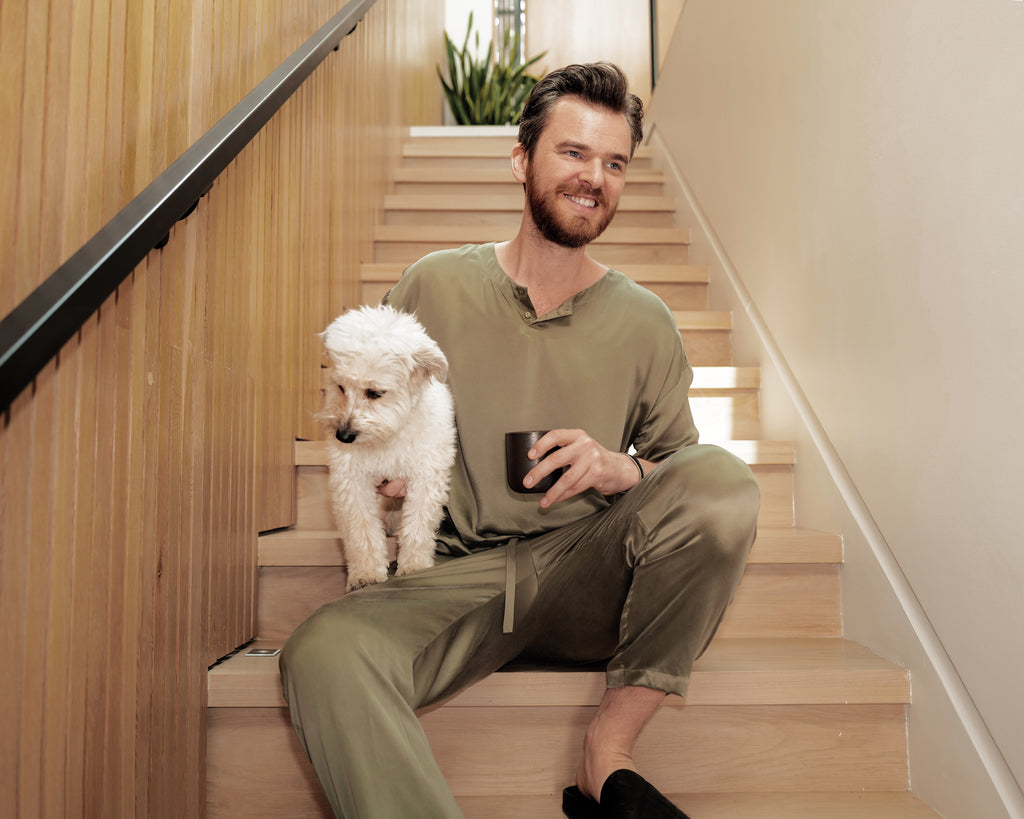 We spent some quality time with Lunya/Lahgo founder and CEO, Ashley Merrill, and founder/CEO of AMASS Botanics, Mark Thomas Lynn – both big fans of making every day a self-care Sunday.
What are the self-care rituals you practice to best care for yourself?
Ashley Merrill: I've worked out obsessively, ever since I was in high school. It's part of my routine now and is essential to maintaining physical and mental health for me. I'm also religious about sleep — going to bed early and taking naps on the weekend. I find that if I'm tired, everything else I do is a little tainted. I also have quite a skincare routine, from serums and lotions to microcurrent facials.
Mark Lynn: Music is a big stress reliever for me. I have a small Bang and Olufsen speaker that I use to play a lot of chill music – Bassanova has been on frequent rotation lately.
How are you finding connection right now?
AM: The arrival of COVID and the subsequent work from home mandate has had a silver lining in that it has given me the opportunity to spend more time being physically present with my family. I've come to appreciate a smaller circle and getting deeper with the friends and family in my bubble. I am certainly struggling a little to connect and maintain a company culture with a remote workforce, but it's a work in progress, and one the whole world is working on together.
ML: This past year, I've missed going to bars and restaurants. Now that I'm vaccinated, it's been nice to connect with friends over dinner and drinks again. We've been revisiting all of our go-to places, of course, but also trying some of the new spots that have opened during COVID – Cara in Los Feliz has become a quick favorite.
How do you make your bedroom a sanctuary? How do you make your bedroom your own?
AM: Textiles play a prominent role here — soft Lunya sleepwear (Lahgo for my husband, of course) and bedding always lay the foundation for a cozy night. I also try to set the mood with art, colors, and candles that reinforce the restful environment I'm after. I treat it like a spa away from the spa; using more functional sleep aids like a Lunya mask, magnesium supplements, and infrared lights.
ML: Lighting and scent both play an important role in creating a calming environment for me. Our Art of Staying In candle is one of my favorites to burn at home, since it has a warm, comforting scent that's still really clean. I like to keep it on my nightstand and burn it before bed to create a moody ambiance. I also do my best to keep things pretty minimal and tidy, especially in the bedroom.
What are your go-to tips for more restful sleep, or more effective lounging?
AM: Stress and motherhood have often made sleep a challenge, to say the least. We've come up with some tricks, like our Do Not Disturb hanger that we use to signal the kids if they can come in or not. Generally, this being up means there's another parent already awake, so the kids can go find them instead of waking up the other. We also set wake up times for the kids — they can wake up before 7, but they're not allowed to wake us up before this time. The kids stopped napping when they went off to kindergarten, but my husband and I never gave up! Now it's a quiet time on weekends when the kids can entertain themselves, and we can get some daytime rest.
ML: I'm a notoriously bad sleeper, but my Lahgo sleep mask is a game changer – it's so soft, and blocks out light really well. I also got an 8 Sleep system that cools the bed and I've found that it really helps me stay asleep.
What helps you feel confident during your off-hours?
AM: While work and parenting figure prominently into my life, I really derive confidence and joy from the more intimate parts of my day. I find that it connects more to feeling physically, emotionally, creatively fulfilled. Being in good shape allows me to dress in a way that makes me feel confident and comfortable, so working out and eating well certainly contributes to my overall sense of contentment. I also crave alone time to recharge and satisfy creative needs — things like cooking, reading, and making (or just engaging with) art help me feel like the best version of myself. It's like exercise for my brain, stretching it in ways my professional demands don't.
ML: Like I said, scent is big for me – wearing a nice cologne helps me feel more confident and like myself, even during my off-hours. Can't go wrong with Maison Francis Kurkdjian.
Describe how you would spend an entire day in bed.
AM: Now we're talking. Catch me watching TV, reading, and probably being alone most of the time — maybe the occasional hug visit from the family. I'd also put together some of my favorite meals, like a Macho salad (inspired by Honor Bar, it's romaine, goat cheese, and all the toppings), or just splurge on Sugarfish. Oh, and you can't forget some Rori's ice cream!
ML: I rarely do this at home (though maybe I should…), but on vacation I love lounging in bed with a book, maybe even ordering in some room service.
It's the end of the day and you're chilling on the couch — what are you drinking? Reading? Watching?
AM: Sparkling water, a hot cup of Bengal Spice Tea, or a cocktail featuring my favorite gin from AMASS, depending on the mood. Usually reading some kind of historical fiction!
ML: Naturally, I'm drinking an AMASS cocktail. At home, that usually means a negroni or a gin and tonic, since they're impossible to mess up and don't require any fussy bar equipment.
AMASS, based in Los Angeles, makes clean botanics for modern life, elevating everyday social and self-care rituals through the power of plants.
Lahgo is a menswear brand engineering elevated lounge and sleepwear. Their pieces are intended to help men prioritize their self-care, achieve more effective downtime, and unlock their best selves with advanced, sustainable fabrics.