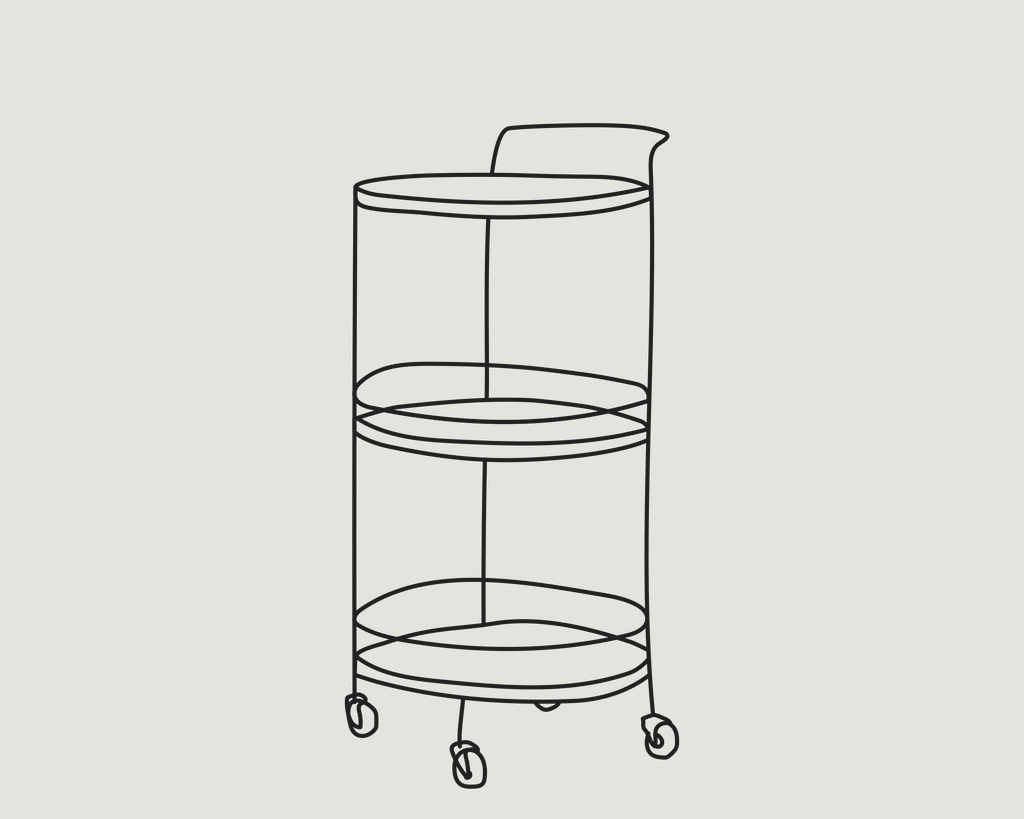 In about 2010, households nationwide underwent the Mad Men effect. Living rooms everywhere were striving to capture the zeitgeist of the 1960s through velvet armchairs, oak furniture, and perhaps most lastingly, the bar cart. Embraced by drinkers and nondrinkers alike, these liquor cabinets on wheels were carted into a new generation and outfitted to fit the times. What was once a fixture in the stylish, mid-century modern homes of the 1950s and '60s had suddenly returned, although with some notable upgrades.

These days, bar carts are a standard interior design element, used to house booze just as much as they are to display tchotchkes, coffee table books, and bowls of editorialized fruit.

Here's how to build yours:
1. Pick your poison.
It's a no-brainer, but the spirits that take up shelf space on your cart should be a reflection of what you like to drink. For us, that means a bottle of our gin and vodka, as well as whiskey, tequila, and rum. Come winter, cognac and brandy are helpful additions to have for mulling wine and stirring up hot toddies.
2. Include a non-alcoholic option.
For evenings when you want a less potent potation or are entertaining friends who don't drink, it's nice to have a non-alc option on the table so you can sip on something a little more sophisticated than a Diet Coke. Riverine, our non-alcoholic distilled spirit, is fit for an array of cocktails. Use it just as you would your favorite clear spirit.
3. Add your add-ons.
Bitters, vermouth, Luxardo cherries; these are the building blocks to a number of classic cocktails. Keep it simple with some Angostoura bitters and a bottle of Dolin, or do it up to the nines with green Chartreuse (for Last Words), Campari (for Negronis), or Cointreau (for Cosmos and Margaritas alike). To start, make a list of your favorite cocktails and arm your cart with all the fixings to shake or stir them up at home.
4. Get your gear.
You don't need an extensive toolkit to make bar-quality drinks at home. A shaker, strainer, jigger, and bar spoon are all you really need, plus some glimmering glassware to make your drinks look as good as they taste. A coupe, rocks glass, and a tall Collins-style glass will cover just about every cocktail you want to make.
4. Style it.
Start by framing your liquor tray with structural elements like a coffee table book, a lamp, or a floral arrangement to create height and fill up the space. Keep your chicest bottles on display and put the rest in a cabinet for a classy, never cluttered look. Then, from there, accessorize with glassware and smaller items like candles and fruit for a dynamic, lived-in space.