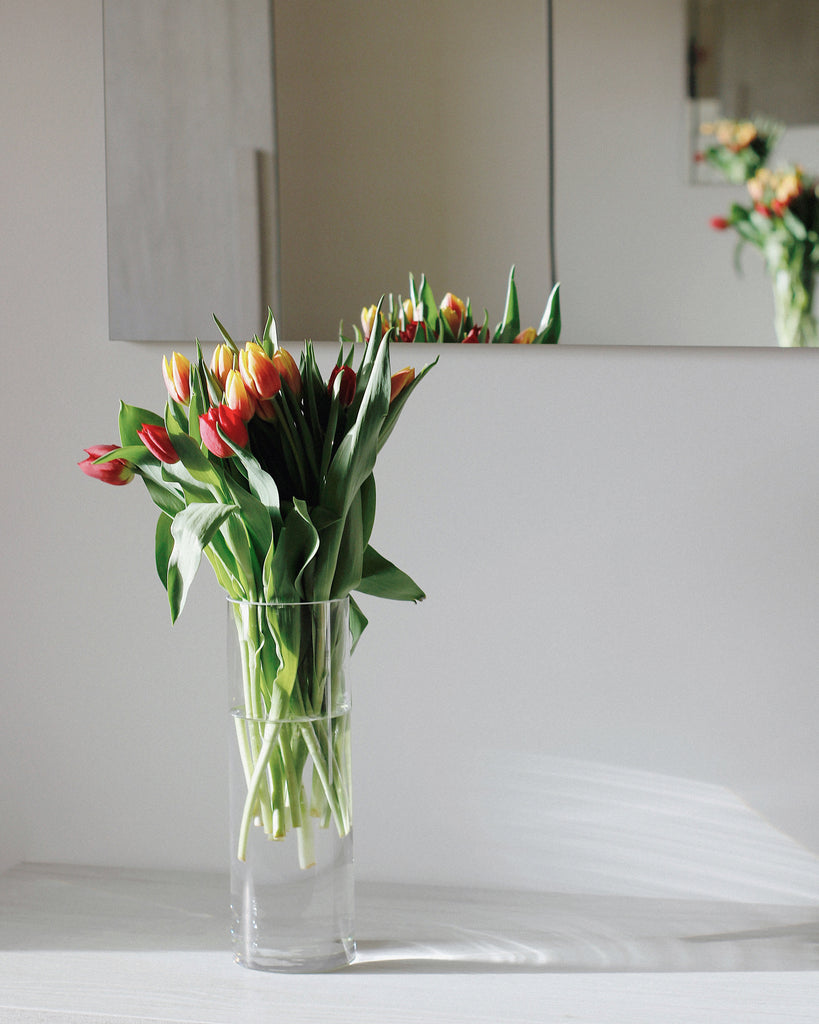 We're no strangers to the world of flora at AMASS. For home decoration or as a gift, a beautiful bouquet of flowers is the best way to brighten anyone's day. Although store bought bouquets get the job done, crafting a unique bunch makes a gift or home decor moment extra special. Enter: our AMASS flower specialist and Social & Community Strategist, Caitlin Zenisek. Follow Caitlin's tips for building a flower arrangement here:
1. How did you get into bouquet making and creating flower arrangements? Is there a source of inspiration you pull from?
I've always loved the way a beautiful bouquet of flowers can make such a big impact on someone's day, particularly mine! We tend to send or receive flowers for celebrations, milestones, or on days we need some extra joy, but I think flowers should be an everyday thing. I genuinely am happier when my home is blooming with arrangements in every room. I also love that you don't need to be an expert - there is no right or wrong way to put together a beautiful bouquet, you just need some creativity. I follow a few florists on instagram that I really admire. @raphverrion is the head florist at Soho Farmhouse and his playfulness and sense of whimsy is everything! Other accounts I love are @theunlikelyflorist, @hart_floral, and @lambertfloralstudio (although I could go on and on)!
2. Flowers are obviously the most important element of a bouquet. Where do you find yours and how do you decide which to pick?
I always start at the farmers market! Most of the time, I'll stick to my usual color palette of greens and whites (I love how fresh they make my space feel), but if something really special or kind of funky catches my eye, I'll just start grabbing stems until I feel like I like the direction I'm headed. I like to pay attention to balance in terms of texture, color, height, and weight to make a well rounded bouquet.
3. Walk us through your process–how do you prep, create, and then finish your bouquets?
Once you get your flowers home, the first step is to pick your vase. This will determine how you prep your stems. Before you start arranging, remove any leaves or foliage that fall below the waterline of your vase, and trim each stem with scissors on an angle. This will help your flowers drink more water, and prevent any bacterial growth to keep your bouquet fresher, longer.
Once your flowers and greenery are prepped, start adding your flowers to your vase! I rotate my vase as I work to make sure the arrangement looks beautiful from every angle. Start with your thickest or sturdiest flowers to create a bit of an anchor, then work your way towards the more dainty ones. I always finish by filling in any gaps with extra greenery. Once you're happy with how your bouquet looks, pick a pretty focal point in your home and admire your work!
Replace the water in your vase every day or two–this will really help get the longest life out of your flowers. After about a week, I start to remove any dying flowers and rearrange as necessary.
4. Are there any tips or tricks you'd like to share that help facilitate the process?
Some of my favorite bouquets come out of trips to the farmers market where I come home with a totally random selection of flowers, greenery, and even edible elements like fresh herbs or branches with berries. Don't be afraid to try something new! And of course, just enjoy yourself. I find flowers to be very therapeutic - I'm usually doing my arrangements on a Sunday afternoon with music on and coffee (or a more boozy beverage) in hand, when I'm really relaxed and enjoying the process! The more creative you get, the more fun you'll have!